Giffgaff offers refurbished iPhones and Samsung Galaxy phones with a 12-month warranty and summer savings.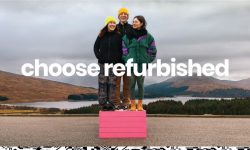 In the UK, giffgaff currently offers refurbished mobile phones with summer savings available on selected iPhones and Samsung Galaxy phones. This includes the refurbished iPhone 7 (available from £99), the refurbished iPhone 8 (available from £139) and the refurbished Galaxy S9 (available from £149).
In this article, we'll look at giffgaff's refurbished mobile phones. We'll start by looking at how refurbished phones work and the benefits of getting a refurbished phone on giffgaff. We'll then look at the summer savings available on giffgaff and the other benefits of buying a phone from giffgaff such as flexible goodybags, O2 coverage and free next business day delivery.
Refurbished Phones on Giffgaff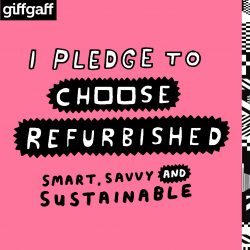 If you're looking for a better value way of buying your next mobile phone that's also more environmentally sustainable, it's worth considering a refurbished mobile phone.
In the UK, giffgaff offers refurbished mobile phones for sale, saying they're a "smart, savvy and sustainable" way of buying your next phone. There are a number of benefits of buying a refurbished phone from giffgaff:
You can get a refurbished mobile phone at a fraction of the price of a new device. For instance, you can get a refurbished iPhone 7 for £99 or a refurbished Galaxy S9 for £149. You'll need to pay several times more if you're looking for a new flagship smartphone.
Refurbished phones are more sustainable and better for the environment. The manufacturing process of modern smartphones has a significant impact on the environment. Not only do mobile phones consume more than 60 different types of metal, they use rare and irreplaceable materials including gold, cobalt and lithium (with all of the impact from mining and processing). More than 80% of your mobile phone's carbon footprint occurs during manufacturing and assembly. You can therefore reduce the environmental impact of your phone and your carbon footprint by choosing a refurbished phone instead.
All refurbished phones are giffgaff certified and include a 12-month warranty. According to giffgaff, all of their refurbished phones undergo a comprehensive 60-point check. They also include a 12-month warranty and a 21-day no-quibble returns policy. They're guaranteed to come "unlocked, data wiped and thoroughly tested, to ensure they're in full working order".
You'll know the condition of your mobile phone in advance. giffgaff offers four different levels of refurbished device, depending on the condition it's in. You can choose between the levels when you order (Like New, Excellent, Very Good & Good) so you'll know exactly what you're getting.
You can pay in monthly instalments through Klarna. You can either pay for your refurbished mobile phone with a single one-off payment or you can split up the cost into monthly instalments through Klarna.
For more information, see giffgaff's guide to refurbished phones.
Giffgaff Refurbished Phone Deals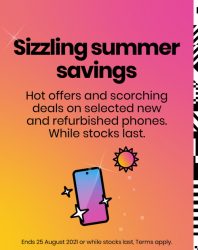 Until the 25th August 2021, or while stocks last, giffgaff is offering summer savings on selected refurbished mobile phones. This allows you to save money when buying a refurbished iPhone or Samsung Galaxy phone from giffgaff:
See all refurbished phone deals →
You can see the giffgaff website for a full list of refurbished mobile phone deals.
Giffgaff Features & Benefits
Giffgaff Goodybags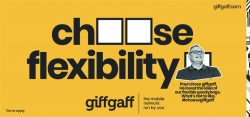 Once you've chosen a mobile phone on giffgaff, you'll be able to add a giffgaff SIM card with a flexible one-month rolling goodybag. This gives you an allowance of UK minutes, texts and data to use on your phone with no contract and no credit check.
Because there's no contract on giffgaff, you retain complete flexibility to change your plan each month (e.g. upgrading to a plan with more data, or downgrading to a cheaper plan to save money).
For the best value usage, choose one of giffgaff's golden goodybags from £10/month:
Tariff
Minutes
Texts
Data
Monthly
Cost

Unlimited

Unlimited

2GB

£6.00

Unlimited

Unlimited

5GB

£8.00

Unlimited

Unlimited

20GB

£10.00

Unlimited

Unlimited

26GB

£12.00

Unlimited

Unlimited

35GB

£15.00

Unlimited

Unlimited

100GB

£20.00

Unlimited

Unlimited

100GB

£25.00

Unlimited

Unlimited

Unlimited

£35.00
Alternatively, you can get a regular goodybag from £6/month. You won't get as much data included on regular goodybags but you can buy one from a top-up voucher or from your Pay As You Go credit.
Tariff
Minutes
Texts
Data
Monthly
Cost

Unlimited

Unlimited

1GB

£6.00

Unlimited

Unlimited

4GB

£8.00

Unlimited

Unlimited

15GB

£10.00

Unlimited

Unlimited

25GB

£12.00

Unlimited

Unlimited

30GB

£15.00

Unlimited

Unlimited

80GB

£20.00

Unlimited

Unlimited

80GB

£25.00

Unlimited

Unlimited

150GB

£35.00
For more information about the goodybag bundles, read our in-depth giffgaff review.
O2 Coverage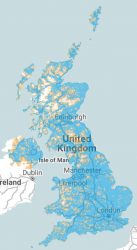 On giffgaff, you'll have access to 99% population coverage across the UK. This is provided by O2's 2G, 3G and 4G networks.
Before you sign up as a giffgaff member, it's worth checking to make sure you can get coverage where you live. You can do this by entering your postcode on giffgaff's online coverage map:
Check giffgaff coverage (giffgaff.com) →
If you have a 5G-ready phone and a golden goodybag plan, you'll also have access to O2's 5G network in 193 UK towns & cities.
Free Next Business Day Delivery
If you order a mobile phone from giffgaff, it will be delivered free of charge on the next business day. Your phone will be delivered by DPD. They'll give an estimated delivery time for the phone on the day, along with a real-time tracking link so you can follow the progress of the phone.
Giffgaff Recycle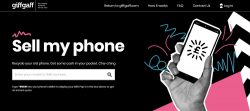 If you have an old mobile phone, you can sell it to giffgaff recycle. They'll give you cash in exchange for your old phone. You can put it towards the cost of your new mobile phone, towards your goodybags or towards anything else you like. You'll also be helping the environment by making sure your old phone is put to good use.
You can get an instant quote for the value of your mobile phone by entering the model number or IMEI number on the giffgaff recycle website. If you choose to sell it to giffgaff, they'll provide you with a free postage label along with packaging if required.
Keeping Your Phone Number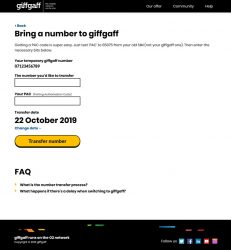 If you're switching from another mobile network to take advantage of giffgaff's refurbished phone deals, it's possible to bring your phone number with you.
Start by ordering your new mobile phone from giffgaff's website. Once you've done that, you can ask your current mobile network for a PAC Code. You can get one using your mobile network's website or app, or by texting PAC to 65075.
Once you've received your new phone and SIM card from giffgaff, you can submit your PAC Code online through a form on giffgaff's website. This will schedule the transfer of your phone number, normally for the next working day if you submit it before 3pm.
For a step-by-step guide on how to transfer your phone number to giffgaff, please select your current mobile network from the drop-down menu below:
PAC Code Finder: Transfer Your Phone Number to giffgaff
More Information
For more information about the refurbished phones on giffgaff, please see giffgaff's official website.