Sky Glass is the new TV from Sky, allowing you to stream all of your channels over WiFi. Read our Sky Glass review.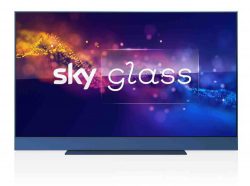 In the UK, Sky Glass is the new smart TV with Sky inside, allowing you to stream all of your channels and shows over WiFi. As there's no need for a separate box or satellite dish, it allows you to watch all of your entertainment with minimal fuss. You'll get all of your shows and apps together in one place, with access to cloud-based recordings, built-in Dolby Atmos surround sound and a 4K Quantum Dot display.
In this article, we'll review the Sky Glass TV including what it is and how it works. We'll then look at the key features available on Sky Glass and at the best Sky Glass deals currently available.
What is Sky Glass?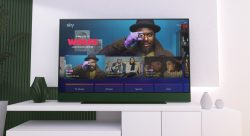 Sky Glass is the new streaming television from Sky. It uses your broadband connection to deliver TV into your home so there's no need for a separate box, dish or television aerial. In fact, you only need the one wire to deliver power to your TV, along with a WiFi connection to start watching.
One of the key features of Sky Glass is how it brings all of your entertainment together in one place. You'll get up to 140 live television channels and Netflix included with your Ultimate TV subscription. You can also connect Sky Glass to your catch-up and on-demand services such as BBC iPlayer, Disney+, Prime Video and Paramount+. It will give you all of your recommendations in one place, regardless of the service it's on. You'll also get an integrated search and Playlists feature that works across all of the different services.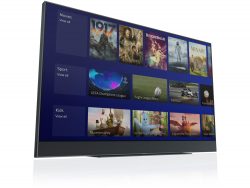 Alongside that, Sky Glass has six built-in speakers for powerful Dolby Atmos surround sound, along with a 4K Quantum Dot display. It's available in a choice of three different screen sizes: 43″ (Small), 55″ (Medium) and 65″ (Large). Whichever size you choose, you can pay in monthly instalments (e.g. it's £13 per month over 48 months for the 43″ model).
To use Sky Glass, you'll need a home broadband connection with download speeds of at least 10Mbps (or 25Mbps if you're watching in Ultra HD). According to Sky, this makes it available to around 98% of UK households. There's no need to be a Sky Broadband customer – you can use Sky Glass with any UK broadband provider.
Sky Glass Features
Live TV, On-Demand & Apps In One Place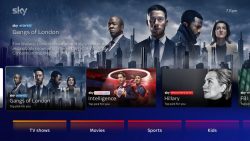 Sky Glass comes with a slick and responsive interface that puts all of your entertainment together in one place. This includes all of your live TV, on-demand streaming and apps. It makes it really easy to discover new entertainment and new things to watch, as well as catching up and following your favourite shows.
Each time you turn on your Sky Glass TV, it starts by presenting you with your personalised recommendations. What's nice is that the recommendations are taken from across all of your connected services (such as BBC iPlayer, ITV Hub, Netflix, Disney+, Prime Video, Apple TV+, Paramount+ and more), in addition to your Sky TV channels. It means you're always able to find new things to watch, without needing to separately go into each individual service. What's more, you can use Sky Glass to search across all of your connected services at the same time, so there's no need to remember which channel or which app each programme is on.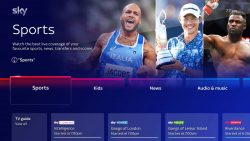 If you've ever used Sky Q in the past, you'll be familiar with the interface on Sky Glass, though it has been given a number of upgrades. Below the recommendations, you'll be able to delve into content by category (such as TV shows, movies, sports, kids and more). You'll also see other devices that have been connected via HDMI (such as your games console or laptop), along with your playlisted shows, your live TV guide and other apps.
Another neat time saving feature on Sky Glass is the voice control capabilities, which you can activate by saying "Hello Sky" at any time. There's also a voice control button on your remote. With voice control, you simply need to tell Sky Glass what you want to watch and it'll find it across your channels and apps. You can also pause, rewind, fast forward and change the volume on your TV and more using voice control.
Playlists & Recordings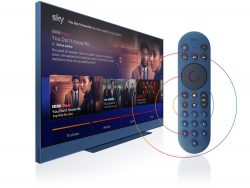 One of the innovations on Sky Glass is the new Playlist feature. It's a bit like the recording functionality found on traditional set-top boxes, but it uses cloud-based recordings and on-demand streaming. This alleviates the need for a physical hard drive inside your device for recordings.
Whenever you see a programme you'd like to watch in the Sky Glass interface, you can simply press the Playlist '+' button on your remote control.
When you come back to watch a show or film on your Playlist, Sky Glass will grab it from the relevant on-demand service where available (e.g. from BBC iPlayer, ITV Hub or All 4). Alternatively, for many other channels (including Sky channels, BT Sport, Eurosport, Gold and W), you'll get access to a cloud-based recording. In addition, Sky Glass will automatically look for other episodes of the same show (similarly to Series Link), even if they're available on a different channel or on streaming.
Unlike recordings, Playlists are cloud-based so there are no storage limits and no chance of clashes when you record. However, it's worth knowing that shows are sometimes removed from catch-up (e.g. 30 days after broadcast) so you'll need to watch them before they're removed.
Speakers & Sound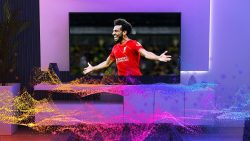 One of the standout features of Sky Glass is the built-in soundbar that delivers up to 215W of room-filling Dolby Atmos surround sound.
You'll find six built-in speakers on the Sky Glass TV. Of these, there are 3 outwards firing speakers, 1 central subwoofer and 2 upwards firing speakers. Together, they'll fill your room with clear and immersive sound. This puts you right in the middle of the action, so you can get the front-row feeling when you're watching live sport and the latest films.
4K Quantum Dot Display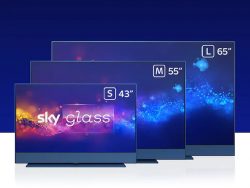 You can get Sky Glass in three different sizes: with a 43″ display (Small), with a 55″ display (Medium) or with a 65″ display (Large).
According to Sky, the right model depends on the size of your room. The recommended viewing distances are 1.7m for the Small TV, 2.3m for the Medium TV and 2.7m for the Large TV.
Regardless of the model you choose, you'll get a 4K Ultra HD screen, making use of the latest Quantum Dot display technology for clear and sharp pictures. The screen also uses Intelligent Zonal (local dimming) technology to give you more contrast in your images.
Alongside that, Sky Glass has support for High Dynamic Range (HDR) technology, giving you a richer and more vibrant viewing experience. This includes the HLG, HDR10 and Dolby Vision standards.
Design & Form Factor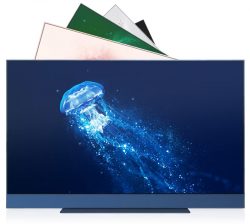 Sky Glass is available in a choice of five different colours: Anthracite black, Ceramic white, Dusky pink, Racing green and Ocean blue. This means you can match it to your living room, or you can contrast if you prefer. In addition, the colour of the speaker below your screen can be changed, giving you another way to personalise your TV.
The device itself is constructed out of anodised aluminium. It's roughly two-inches thick which is a little more than other flatscreen TVs, but that's no surprise given that Sky have integrated a soundbar into Glass.
You'll get a stand included with Sky Glass, allowing you to place it on a flat surface in your living room. Alternatively, there's also a wall-mounting bracket so you can attach the Sky Glass to the wall if you prefer.
Remote Control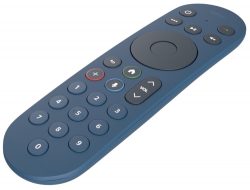 You'll get a brand new remote control included with Sky Glass which is colour matched to the television set you buy. The new remote uses soft-touch plastic that feels great in the hand. It's also backlit which is handy if you're using it in the dark, and it's powered by Bluetooth so there's no need to point your remote directly at the TV.
Compared to Sky Q, the remote has been simplified a little. For instance, the separate buttons to change channel and to rewind/fast forward have been combined into the wheel. You'll also get a dedicated '+' button for adding shows to your Playlist, along with the microphone button which activates voice control on your Sky Glass.
Carbon Neutral TV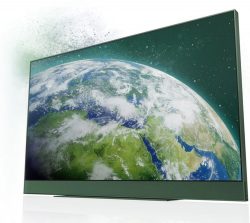 According to Sky, Sky Glass is the world's first CarbonNeutral certified TV.
Sky Glass includes an auto-switch off power-saving feature. This will automatically switch your TV to standby if no motion is detected in the room for 50 minutes. In addition, the backlight on your Sky Glass adapts automatically to the light levels in the room. This helps to save energy when it isn't required.
Sky has also promised to offset the carbon emissions associated with the average electrical usage on a Sky Glass television in the first year.
Best Sky Glass Deals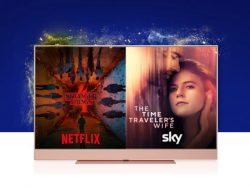 You can get Sky Glass from just £13 per month (payable over 48 months). The price you pay depends on the screen size you require:
Small (43 inches) – £13 per month plus £10 upfront
Medium (55 inches) – £17 per month plus £10 upfront
Large (65 inches) – £21 per month plus £10 upfront
On top of that, you'll pay £26 per month for your Sky Ultimate TV subscription. This gives you access to more than 100 channels including all of the Sky Entertainment channels such as Sky Atlantic. You'll also get a Netflix subscription included in the price.
Technical Specifications
The following table shows the technical specifications of Sky Glass:
Sky Glass
Monthly Price:
From £39/month
Television Set:
Small 43″ (£13 per month)
Medium 55″ (£17 per month)
Large 65″ (£21 per month)
Channels:
Up to 140 channels
Features
Display:
4K Ultra HD (3840 x 2160)
with Dolby Vision, HDR10 & HLG
Sound:
Dolby Atmos 3.1.2 (6 speakers, up to 215W sound output)
Ports:
3x HDMI 2.1 (inc 1x eARC)
1x USB-C for power (up to 15W)
Other Features:

Single search across live, on-demand & apps
Voice control with far-field microphones
Playlists with cloud-based recording
Certified CarbonNeutral™ product

Technology
Reception Method:
Internet
(broadband required)
Requires Box:
No
Requires Broadband:
Yes
10Mbps for HD
25Mbps for UHD
Availability:
98% of UK homes
Check availability →
More Information
For more information about Sky Glass, please see Sky's official website.