3 releasing personal 3G to WiFi Hotspot "MiFi" accessory
September 7th, 2009
UK mobile network 3 is launching a nifty little accessory called the MiFi on September 18th. It's a multi-user mobile internet dongle. The MiFi connects to 3's third-generation data network to provide internet access and sets itself up as a battery-operated WiFi hotspot so you can connect your other devices to it.
What specifications?
The MiFi itself measures 86 x 46 x 10mm and weighs 99g – about the same as a mobile phone. It connects to 3's network providing up to 7.2Mbps downstream and 5.76Mbps upstream. And it sets itself up as a 802.11b/g hotspot so it will work with almost all modern WiFi devices.
Video Tour from MobileDeveloper.Tv

Download M4V Video | Subscribe to Podcast | Embed video
What is it good for?
According to Three:
You can connect multiple devices to the internet at the same time, so while you are checking e-mails on a netbook, you can also download a track from iTunes onto your iPod touch.

You don't need to install any software. Just insert a 3 UK SIM, switch on the wireless modem and connect to the Mobile Internet using a Wi-Fi signal.  A Wi-Fi enabled device will automatically pick up the signal and ask for an eight-digit network key which you will have to put in just once for every new device you want to connect.

Marc Allera, Sales & Marketing Director at 3 UK says, "Mobile Wi-Fi is the future of internet access on the move and we're bringing it to customers at price points that make it accessible and affordable. It's the perfect gift for people after genuine wireless internet access on the go to complement the laptops and iPod touchs that will undoubtedly make their way onto Christmas lists across the UK this December."
Is it any good?
We'll just have to wait and see – it comes out in two weeks. Let us know what you think in the comments below.
About Ken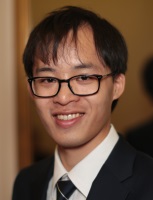 My passion is helping people to get the most out of their mobile phone. I've been blogging at Ken's Tech Tips since 2005.
Aside from writing about mobile technology, my interests are in software development, digital marketing and physics. Outside of the blog, I work with numerous technology companies helping them to explain their product and helping them to market it to consumers. Please get in touch for more information.