The Moto Z is Motorola's new flagship modular smartphone. We compare the UK's cheapest deals for buying a Moto Z, Moto Z Play and Moto Mods.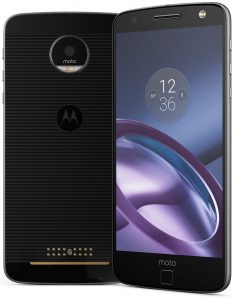 The Moto Z is Motorola's new flagship Android smartphone. With a razor-thin design, the handset is unique as it can easily be customised in just a few seconds by snapping on a Moto Mod.
Moto Mods are a unique feature that allow you to add additional functionality to your Moto Z smartphone. Mods currently include a Hasselblad camera with 10x optical zoom, loud JBL stereo speakers and an enlarged power pack with 20 hours of additional battery life. You can also transform your phone into a projector for easy sharing of content like photos and movies.
In this article, we'll look at the best value deals for buying a Moto Z or Moto Z Play in the UK. We'll also look at the range of the available Moto Mods and where you're able to buy them for the lowest available cost.
SIM Free & Unlocked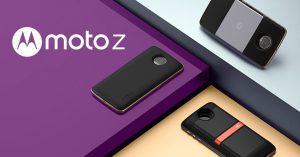 In the UK, you can currently buy an unlocked Moto Z and Moto Z Play.
Motorola's current flagship smartphone is the Moto Z. Starting at £489 unlocked, the Moto Z has a super-slim aluminium design measuring just 5.2mm in thickness. It has a 5.5-inch display at quad-HD resolution (535ppi), a 13-megapixel camera with optical image stabilisation (OIS) and a powerful Snapdragon 820 processor from Qualcomm.
As a cheaper alternative, Motorola also offers the Moto Z Play. Starting at £345 unlocked, it's slightly thicker at 7.0mm and has a plastic back rather a full aluminium design. The screen still measures 5.5-inches but this is at a lower resolution of full HD (403ppi). The camera on the Moto Z Play also lacks OIS but is slightly higher resolution at 16 megapixels. The Moto Z Play has a Snapdragon 625 processor and should have better battery life with its 3,510mAh battery.
Both the Moto Z and Moto Z Play have full support for Moto Mods.
Cheapest SIM-Free Retailers
At present, the cheapest way to buy a Moto Z is to get it directly from the Motorola website. If you use the UKWELCOME10 voucher code during checkout, this will reduce the price you pay to £489 SIM-free and unlocked. You'll also get free delivery when ordering your handset from Motorola.
If you want the lower-cost Moto Z Play, you can currently get this slightly cheaper by buying from Expansys. At Expansys, the Moto Z Play currently costs £344.99 with free delivery.
If you're looking for a cheaper alternative to the Moto Z and if you don't require Moto Mods functionality, it may also be worthwhile investigating Motorola's mid-range handsets: the Moto G4 and Moto G4 Plus.
Moto Mods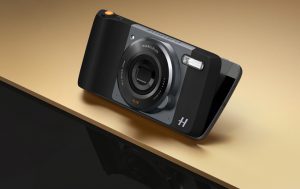 Both the Moto Z and Moto Z Play have support for Moto Mods. These are specially-designed accessories that snap onto the back of your phone. They add additional functionality like an improved camera, a larger power pack, louder stereo speakers or image projection.
There are currently four Moto Mods available to buy:
You can currently buy Moto Mods from John Lewis, Amazon.co.uk, Motorola and Clove:
According to the Motorola, Moto Mods are designed to be future-proof and will work with "Moto phones for years to come".
Pay As You Go & Pay Monthly
Unfortunately, the Moto Z smartphones aren't currently available from any UK mobile networks on Pay As You Go or Pay Monthly. Instead, you'll need to buy the handset SIM-free. You can then use it with a free Pay As You Go SIM card or with a low-cost SIM-only deal.
The unlocked versions of the Moto Z and Moto Z Play will be compatible with all UK mobile networks.
Which Moto Z?
If you aren't sure which Moto Z smartphone to buy, the following table will show you a side-by-side comparison:
Motorola Moto Z

Motorola Moto Z Play

Motorola Moto G4

Release Date
2016, Flagship
2016, Mid Range
2016, Mid Range
Software
Google Android 6.0
Google Android 6.0
Google Android 6.0
Display
Size
5.5-inch display
5.5-inch display
5.5-inch display
Type
Organic LED
Organic LED
LCD
Resolution
2560x1440 pixels
1920x1080 pixels
1920x1080 pixels
Pixel Density
535 pixels per inch
403 pixels per inch
401 pixels per inch
Camera
Rear Camera
13 megapixels
16 megapixels
13 megapixels
Auto-Focus

✔

✔

✔

Flash

✔

Dual-LED flash

✔

Dual-LED flash

✔

Dual-LED flash
OIS

✔

✘

✘

Front Camera
5.0 megapixels
5.0 megapixels
5.0 megapixels
Internals
Processor
Snapdragon 820
Snapdragon 625
Snapdragon 617
Speed
2.2GHz dual-core &
1.6GHz dual-core
2.0GHz octa-core
1.5GHz quad-core &
1.2GHz quad-core
Internal Storage
32/64GB
32GB
16/32GB
External Storage

✔

Up to 256GB micro-SD

✔

Up to 256GB micro-SD

✔

Up to 256GB micro-SD
Handset Weight
136g
165g
155g
Battery
2,600mAh
3,510mAh
3,000mAh
Mobile Networks
3G Networks

✔

Up to 42Mbit/s

✔

Up to 42Mbit/s

✔

Up to 42Mbit/s
4G Networks

✔

✔

✔

SIM Card Type
Nano SIM
Nano SIM
Micro SIM
For more information, please see the Motorola website for details about the Moto Z and Moto Z Play.