TalkTalk offers a range of call boosts with their broadband including Unlimited UK Calls and International Max add-ons.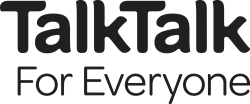 In the UK, TalkTalk offers home broadband and home phone plans from £23.50 per month. This includes the cost of your line rental along with calls to other TalkTalk landline customers.
If you regularly use your landline for phone calls, you can now add a TalkTalk call boost. There's a £7/month Unlimited UK Calls boost giving you unlimited calling to UK mobiles and landlines. There's also an International Max boost (available at £6/month for the first 6 months) giving you 1000 minutes for calling mobiles & landlines in 55 destinations.
In this article, we'll look at TalkTalk's home phone service and how you can use it together with their home broadband. We'll then look at the calling boost add-ons that will give you UK or international minutes on your plan. Finally, we'll look at some of TalkTalk's other features and how you can switch your current service to TalkTalk.
Prices From:
£23.50 per month
for Fibre 35 with inclusive line rental & TalkTalk calls
Pay As You Go Calls:
21p/minute (to most UK landlines and mobiles)
Free for up to 3 hours (to other TalkTalk landline customers)
Call Boosts:
TalkTalk Broadband & Phone Plans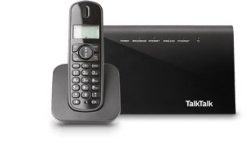 In the UK, TalkTalk offers a home phone service together with home broadband, with plans currently starting from £23.50 per month for Fibre 35. You can also choose from a range of fibre broadband plans such as Fibre 35, Fibre 65 and Fibre 150.
The following table shows TalkTalk's latest home broadband offers:
The cost of your TalkTalk service already includes your line rental charge. It also gives you free calls to other TalkTalk landline customers (up to a maximum length of 3 hours per call).
If you want to call other UK landlines or UK mobiles, this will normally cost you 21p/minute. Alternatively, you can buy a calling boost which may work out to be cheaper depending on how much you use your home phone.
TalkTalk's home broadband and home phone service also includes caller display and CallSafe technology. The latter feature is designed to block unwanted nuisance phone calls on your landline, whilst still allowing trusted contacts to get through to you straight away.
TalkTalk Call Boosts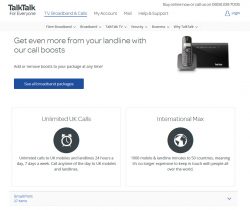 If you regularly make use of your landline for calling, you can save money by buying one of TalkTalk's call boost add-ons:
Unlimited UK Calls (£7/month for 18 months, then £14/month): This gives you unlimited calls to UK mobiles and landlines. You can use it any time of the day, 7 days per week. There's a maximum call length of 60 minutes per call but you can hang up and re-dial if you like.
International Max (£6/month for 6 months, then £12/month): This gives you 1,000 minutes per month for calling 55 international destinations. You'll also get discounted rates for calling other countries that are not on the list.
TalkTalk is currently offering a discount on both of their call boosts. The Unlimited UK Calls boost has been reduced to £7/month for 18 months. Meanwhile, the International Max boost is available for just £6/month for the first 6 months, before returning to the full price of £12/month.
If you choose TalkTalk's International Max boost, it will allow you to call mobiles and landlines in all of the following destinations:
Argentina
Australia
Austria
Bangladesh
Belgium
Bulgaria
Canada
Chile
China
Colombia
Cyprus
Czech Republic
Denmark
Estonia
Finland
France
Germany
Gibraltar
Greece
Guernsey
Hong Kong
Hungary
Iceland
India
Ireland (Republic of)
Israel
Italy
Japan
Jersey
Latvia
Liechtenstein
Lithuania
Luxembourg
Malaysia
Malta
Mexico
Netherlands
New Zealand
North Cyprus
Norway
Palestinian National Authority
Poland
Portugal
Romania
Slovakia
Slovenia
South Africa
South Korea
Spain
Sweden
Switzerland
Taiwan
Thailand
Turkey
USA
Other TalkTalk Features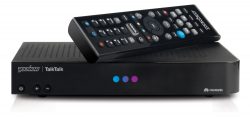 Alongside their broadband and home phone service, TalkTalk also offers the following features:
TalkTalk TV: You can add TalkTalk TV to your TalkTalk broadband service for an extra £2/month. This will give you a TalkTalk TV box with the ability to pause and rewind live television. You can also watch on-demand TV from numerous players including BBC iPlayer, ITV Player and All4.
Online Security: TalkTalk offers a range of online security solutions, including the HomeSafe web filter and the SuperSafe Boost anti-virus software (also known as TalkTalk Online Defence). You'll also get the CallSafe service included on your landline which blocks unwanted nuisance calls.
Gfast and full fibre (FTTP) broadband: TalkTalk offers a range of Gfast and full fibre (FTTP) broadband plans. This can give you ultrafast broadband with download speeds of up to 500Mbps.
Coverage & Availability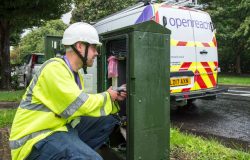 TalkTalk's home broadband and home phone service is now available in most UK households. You'll need to be able to get an Openreach phone line, which is available almost everywhere in the UK with the exception of Hull.
TalkTalk's fibre broadband plans are available in more than 90% of UK homes and their Gfast plans are available in 10% of homes.
To check the availability of TalkTalk's service where you live, enter your postcode on TalkTalk's online availability checker:
Check TalkTalk Broadband Coverage →
Switching to TalkTalk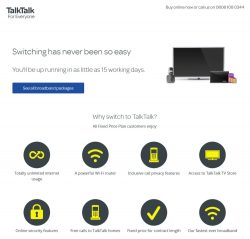 If you're currently using a different broadband or home phone provider, it's easy to switch both of your services to TalkTalk.
Start by ordering your home broadband and home phone service from TalkTalk's official website. During the sign up process, they'll give you a start date for your new service (typically for around 2 weeks time).
In most cases, there's no further need to contact your old provider as TalkTalk will do this on your behalf, cancelling your old service. The main exception is if you're a Virgin Media customer, in which case you'll need to contact them to cancel your old service.
On the date that your TalkTalk service goes live, you can replace your existing router with the new Wi-Fi Hub from TalkTalk. This completes the switchover process.
For step-by-step instructions on how to switch from your current provider to TalkTalk, please select your current broadband and home phone provider below:
Switch to TalkTalk Broadband
Your step-by-step guide to switching
You can also read our full guide on switching home broadband provider.
More Information
For more information about TalkTalk's calling plans, please see their official website. You can also read our full TalkTalk review.