Barcelona, the home of this year's Mobile World Congress, is leading the world in the roll out of contactless payment technologies.
Much of the world's mobile industry is descending on Barcelona this week for the annual 'Mobile World Congress' trade show (MWC). The show is held annually in Barcelona, the city which has recently been designated by the "Mobile World Capital" by the GSMA mobile industry association. However, whilst many of the technologies being showcased this week in Barcelona are cutting-edge and modern, much of the history of the city itself and many of Barcelona's beautiful buildings date back to medieval times.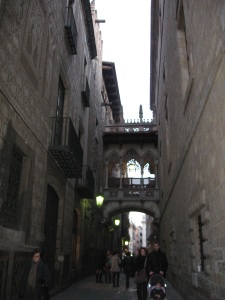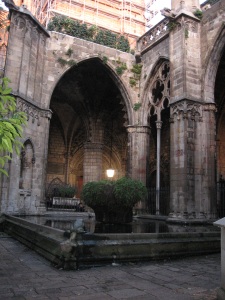 Barcelona's historic Gothic Quarter lies between 'La Rambla' and the Mediterranean seafront at 'Ronda de Sant Pere'.

A historic city to showcase the future of commerce
The Gothic quarter of the city is a labyrinth of narrow streets, occasionally and seemingly randomly interspersed with openings into vast plazas of fountains, palm trees and Gaudi-inspired architecture. The Gothic quarter is bounded on one side by the tree-lined avenue, 'La Rambla', an ever-popular spot for tourists. The other side of the quarter is bounded by the beautiful Mediterranean seafront at Ronda de Sant Pere which the city overlooks. It is amongst these narrow streets of the Gothic quarter, and the small independent cafes and tapas bars that an experiment aiming to change the way that we buy things is underway. The experiment, if successful, could change the way that we spend money and conduct commerce with each other in the future. This new technology being rolled out across Barcelona is called Near Field Communication, or NFC for short. The promise is a more convenient way to pay for goods, groceries and the morning coffee by tapping your mobile phone or credit card onto a reader.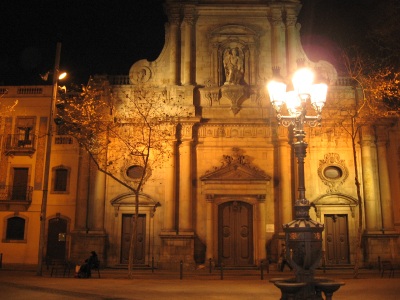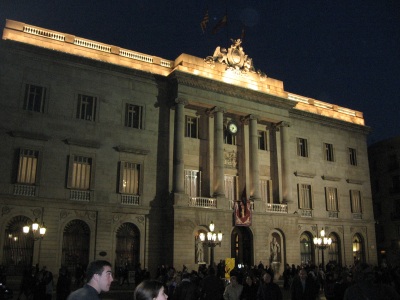 Behind the historic buildings that make up Barcelona, we're seeing a glimpse of the future of commerce.
In this article, we explore how NFC technology is being used across Barcelona. We'll look at the benefits of NFC technology and whether we'll see it hitting our own shores soon. We'll explore the current state of contactless payments in the UK and look at what hurdles need to be overcome before NFC becomes a part of our daily life.
Contactless Payments in Barcelona
The company behind the rollout of contactless payments in Barcelona is La Caixa. La Caixa is one of Spain's largest banks. Starting from last month, the company started installing new point-of-sale terminals and upgraded cash machines across the city. These new terminals and cash machines all support the contactless NFC technology we're so excited about. The aim is to install 15,000 point-of-sale terminals and 500 cash machines across the city by the end of the year and to distribute 1 million new credit cards and debit cards. For a city of 1.6 million inhabitants, this is a pretty big deal.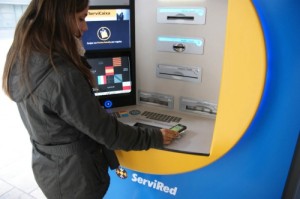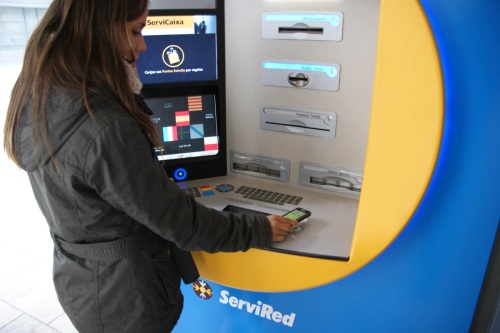 Contactless cash machines can be found across the city dispensing euro notes.
La Caixa's contactless payment system allows Barcelonians to pay for all of their purchases in the city wirelessly by tapping their card or phone onto a reader. For transactions under the value of €20 (£17), no PIN number is required and the entire transaction takes place in under a second. For transactions above €20 (£17), users are required to enter their PIN number to authorise the transaction. The payment system is integrated into the Visa PayWave network meaning that tourists with PayWave-enabled credit cards and debit cards can also take advantage of contactless payments through Barcelona. It also means that you'll be able to use a NFC-enabled mobile phone such as the Galaxy Nexus for payments in Barcelona, regardless of whether you live in the city.
For those of us who need to withdraw some euros, La Caixa has added contactless technology into their cash machines. Although a PIN number is required for all cash withdrawals, there is no need to insert your card into the machine during the entire process – just tap. They're calling it "the fastest ATM cash withdrawal system on the market" and once it reaches the UK, it could mean an end to the lunchtime queue in front of the high street cash machine. NFC makes it fast, easy and secure to withdraw cash from our bank account – and fewer queues are certainly no bad thing.
Contactless Payments in the UK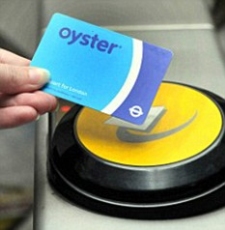 Although Barcelona is leading the way in rolling contactless payment technology out across the city, Londoners have already been using a basic form of contactless payment technology since 2003.
The Oyster card ticketing system is used across London for travel on the Tube, buses, trains and the DLR. Oyster cards can be topped up with "credit" which can then be redeemed against travel on London's public transport network. The "credit" is stored securely on the card itself and money is automatically deducted when tapping your Oyster card at the ticket barrier to enter or leave the public transport network. Oyster cards are able to complete a transaction in about a third of a second. Since their introduction, queues have been reduced both at ticket machines and ticket barriers and it's been a lot easier to get around London. They do have some drawbacks however: they must regularly be topped up with additional credit and always seem to run out of credit when it is most inconvenient. Oyster cards also cannot be used in shops or newsagents which limits how useful they are.
For a more general contactless payment system which works in any shop or store, such as the one being rolled out across Barcelona, we've still got a bit of a little bit of waiting to do. Visa PayWave technology is beginning to appear in some of our high-street chains such as McDonalds, Starbucks and Subway. Our banks are also beginning to distribute credit cards and debit cards with support for contactless payment technology.
On the mobile front, Orange launched a mobile phone with support for contactless payments last year – the Orange Quick Tap service allows a NFC-enabled Samsung Tocco Lite to be used for payments up to the value of £15.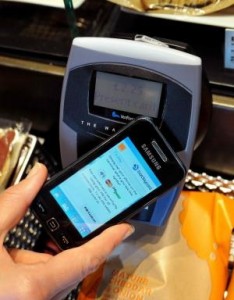 Is 2012 the year of contactless payments in the UK?
There are several things that suggest 2012 might be the year of contactless payments in the UK.
First of all, the UK's top 4 mobile operators launched a joint venture last year aimed at integrating NFC technology and contactless payments into smartphones. By agreeing certain standards on how NFC technology can be integrated into mobile phones, the hope is to have a common method which will be supported by a large number of stores.
Secondly, the launch of the Olympics is being seen as a potential showcase for contactless payments: it's rumoured that Google will decide to launch their 'Google Wallet' service in the UK during 2012. This would really bring contactless payments into the public consciousness.
Finally, Transport for London is set to start accepting NFC payments directly in 2012. This means that you'll be able to use your contactless credit card, debit card or mobile phone directly on the ticket barrier readers – you'll no longer need to carry a separate Oyster card just for getting around. By removing the Oyster card as an intermediary step in contactless payments, Transport for London are able to benefit from greater reach, lower costs and better security.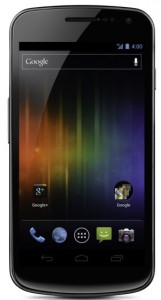 There are a couple of hurdles remaining before NFC payments can be accepted directly however: the main one being speed. An Oyster card transaction currently takes approximately 0.3 seconds. However, a contactless payment using a card or mobile phone would take about twice as long (around 0.5 seconds). The transaction speed is currently one of the main sticking points that is preventing contactless payments from being fully rolled out across London's public transport network.
With the potential of having a new high-speed and secure method for paying and conducting commerce, let's hope that these issues can be resolved soon and that contactless payments can begin to roll out across the UK.