Going to a music festival this summer? Our essential festival technology guide shows you how to keep your phone safe, charged up and how to keep up with festival gossip.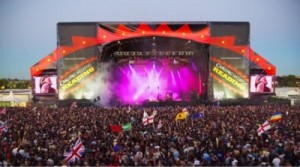 Every year, millions of us brave the mud and the great British weather to attend a music festival. With hundreds of festivals across the UK, they're a great way to see your favourite bands, meet new people and chill out with mates. As useful as a mobile phone can be at a festival for keeping on top of all the gossip and arranging to meet people, the last thing you'd want to worry about is finding somewhere to charge your phone or losing it. In this article, we outline how to keep your phone safe, how to keep it charged and how to keep up-to-date with the festival gossip.
1. Don't take your smartphone: Take a second phone.
A music festival is a harsh place for a smartphone. Electronics and water don't mix well so a weekend outdoors in the rain could really damage your handset. Even if we have a barbecue summer, there are dangers too: leaving your phone in direct sunlight for a prolonged amount of time could also cause damage to your phone. With the possibility of water damage and theft, does it really make sense to take a brand new and state-of-the-art £500 smartphone to a festival?
A good alternative is to pick up a second phone – some really basic handsets are available from as little as £10. You can use your existing SIM card in that phone providing it's isn't locked and you'll have the same phone number as before – your phone number is linked to the SIM card rather than the phone itself. All you need to do is to copy your important phone numbers over to the address book on your second handset so they're available when you need them.
An extra benefit of taking a cheap handset is that the battery life tends to be much better on basic handsets. Whilst smartphones struggle to last a day between charges, a basic handset should easily last a few days or even a week between charges.
2. Keep your phone charged with a portable battery pack.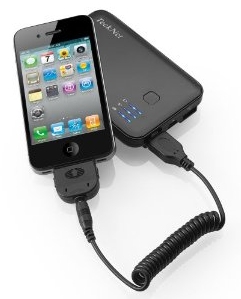 Whilst many festivals have mobile charging points, it's probably a lot more convenient to take your own battery pack. You should charge up your portable battery pack before you leave home. Once at the festival, the battery pack can then be used to charge up your phone. Portable battery packs are available for £22.95 on Amazon.co.uk and allow you to charge up to two mobile devices simultaneously. With a battery pack of capacity 5000mAh, you should be able to charge up your phone fully around 3-5 times. Smartphones such as the HTC Desire and iPhone 4 have a battery capacity of around 1,400mAh (hence you could charge them around 3.5 times using a 5000 mAh battery pack).
3. Take an extra battery
The problem with battery packs or using a festival charging point is that you'll need to hang around waiting for your phone to charge. Taking a second battery with you could be a good alternative – as soon as you run out of juice, you can simply switch your depleted battery for a fully-charged one in a couple of seconds.
Additional batteries for your mobile phone can be purchased from Amazon. We strongly recommend against purchasing batteries which are not from a trusted brand and source. Ideally you should purchase replacement batteries from your mobile phone manufacturer. It can be incredibly dangerous to use counterfeit batteries: they often claim a higher capacity than they really have and may lack the necessary safety circuits.
Please note that the iPhone does not have a replaceable battery.
4. Extend your phone's battery life using power saving features.
It is possible to extend your phone's battery life by disabling features such as wi-fi and GPS and reducing the brightness of the screen. See our detailed guide to mobile phone battery life. You should also turn off all non-essential applications.
5. Buy a case for your mobile phone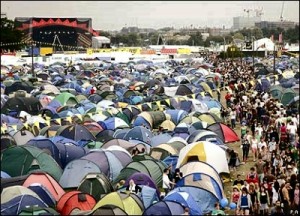 A protective case and screen protector could be a worthwhile investment: it'll provide some basic protection for your phone against scratches and accidental drops. Don't rely on a case too much though: it won't be a massive help if you're stuck in the middle of a mosh pit.
6. Keep your phone safe and out of sight
The best way to protect your phone against loss and theft at a festival is to keep it hidden. Thieves are opportunists so if they can't see your phone, they can't target it. Ideally you should keep your phone hidden away in a zipped pocket or a bag.
7. Make a note of your phone's IMEI number
If you've not done it yet, make a note of your phone's IMEI number. You can find this by dialling *#06# on your phone's keypad. Write this down somewhere safe (not in the memo application on your phone!). You'll need the IMEI number to hand if you ever need to report it as stolen.
8. Add a lock screen to your phone
Set up an unlock code or an unlock pattern on your phone. This will make it harder for thieves to access your personal information if they come across your phone. Whilst there are ways to get round the lock screen, it will slow the thieves down and give you time to report it as stolen.
9. Use a mobile phone tracking and remote data wiping application
Set up some security software on your phone before you leave home. These applications will allow you to track the location of your phone in the unfortunate event it gets lost or stolen. It'll also allow you to remotely wipe your personal data from the device.
10. Use Twitter to keep up to date with the latest festival gossip and secret shows.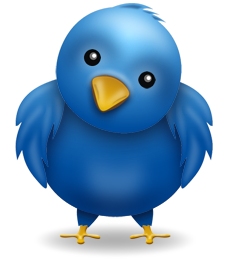 If you want to be the first to know about secret gigs or what's going on at the festival, Twitter is a great source for gossip. Download the Twitter application for your phone and monitor the official festival Twitter account and hashtag to see what other people are saying.
| Festival | Official Twitter Account | Twitter Hashtag |
| --- | --- | --- |
| Glastonbury | @GlastoFest | |
| Hard Rock Calling | @HardRockCalling | #HRC2011 |
| Wireless Festival | @WirelessFest | #WF2011 |
| T in the Park | @Tinthepark | |
| Wakestock Festival | @WakestockUK | #Wakestock |
| T4 on the Beach | @T4OnTheBeach | |
| V Festival | @vfestival | #Vfestival |
| Reading Festival | @OfficialRandL | #RandL |
| Leeds Festival | @OfficialRandL | #RandL |
| Creamfields | @Creamfields | |
| Bestival | @Bestival | #bestival |
11. Be patient if your calls don't connect straight away or agree a meeting place beforehand
Due to the large numbers of people at music festivals (200,000+ at Glastonbury), you may occasionally experience issues with calls not connecting or text messages being delayed. Although the major mobile phone networks do add extra capacity during festivals (O2 say they are installing 6 temporary masts on the Glastonbury site), there will still be peak times where the networks could be overloaded (e.g. between bands). A good idea could be to agree a meeting place beforehand in the event of any mobile problems.
Ken's Tech Tips wishes all of our readers an enjoyable summer and as much Sun as the British weather can muster.