The new JCB Toughphone range is designed for people who live or work outdoors and includes the world's first floating phone.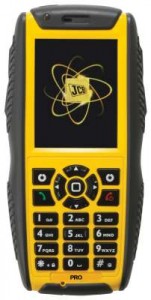 The range of new JCB Toughphones were launched last week. Designed for people who work outdoors and as a second handset for people who frequently take part in outdoor activities or sports, the Toughphones have been built to military specifications and are protected against water, dust and shocks. In this article, we review the range of Toughphones, explore the classification scheme for rugged mobile phones and look at some of the alternatives on the market.
What phones are available in the range?
There are 4 mobile phones in the new Toughphone range:
The Tradesman (£70) – The world's first floating phone with an FM radio, Bluetooth, vibration alert and a colour screen.
The Sitemaster (£110) – Designed to resist pressure and drops. Has been drop tested to 2m. Has a built in laser pointer, torch and bundled wind-up charger.
Toughphone Pro (£240) – Features a two-way radio with PMR (private mobile radio) option, two SIM card slots, 2 megapixel camera, GPS, support for up to 8GB memory and a touchscreen.
Toughphone Pro-Talk (£250) – Identical to the Toughphone Pro but with a built-in 8 channel two-way radio.
Who are the phones aimed at?
The new range of Toughphones follow on the original JCB Toughphone which was launched in 2007. Whilst the original phone was aimed at construction workers, the new phones are hoping to target a more mainstream audience this time round. They're hoping that people will buy the phone as a second handset for use when partaking in outdoor activities such as skiing, sailing or attending music festivals… those situations when you don't really want to be carrying around a a fragile £400 smartphone. The most basic phone (The Tradesman) starts at around £70 SIM-free and we can certainly see the attraction of the device for outdoor adventurers such as hikers, climbers and skiiers (providing you can get over the bright yellow and black colour scheme!).
What's the battery life like?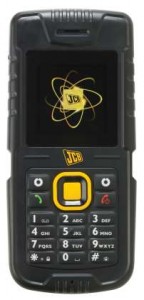 One key consideration for outdoor adventurers is the battery life of the phone. When you're miles away from the nearest power socket, it's important you don't run out of juice before you manage to recharge the phone!
That said, we're a little bit worried about the battery life of the Trademan which is advertised as 3 hours talk time and 130 hours in standby. Theoretically this means the phone should last for 5 days on standby but to put it in perspective, the iPhone 4 advertises a battery life of 7 hours talk time and 300 hours in standby (and most iPhone users run out of battery in a day!). The real-world battery life rarely comes close to the manufacturer's advertised figures and depends on many factors such as how you use the phone and the quality of network reception. Given that a lot of outdoor activities are carried out in places with no signal or patchy signal, the chances are the battery life will be a lot shorter than the advertised figures. For this reason, we're hesitant to recommend the Tradesman to hikers, campers and festival-goers who may go for days between finding somewhere to charge their phone as it's difficult to know what battery life is like in practice. The Sitemaster (£110 RRP) does a little better with a claimed 4.5 hours talk time and 450 hours (18 days) in standby. Still, we think it's a little disappointing when some rival phones can last up to 67 days in standby on a single charge.
If you've had some experience with these phones, do drop us a comment below and let us know how the battery holds up for you.
What does IP54/IP67 certification mean?
The IP code or IP rating (short for International Protection Rating) is the international standard for certifying how well an object (in this case a phone) is protected against the intrusion of other solid objects, dust particles and liquids. The first digit corresponds to the level of protection against solids (where 0 is the lowest level and 6 is the highest level) and the second digit corresponds to the level of protection against liquids (where 0 is the lowest level and 8 is the highest level).
The Tradesman, Pro and Pro-Talk phones are IP67 certified. This means they have a rating of 6 in protection against solids (they are dust tight) and a rating of 7 in protection against liquids (they are protected against water at depths of up to 1m).
The Sitemaster is certified to IP54 which corresponds to being dust protected (but not dust tight) and being protected against splashes of water but not jets of water or complete submersion in water.
See Wikipedia for more information on interpreting IP codes/ratings. The guys at JCB have also published an article detailing how they test their phones.
What is the user interface like?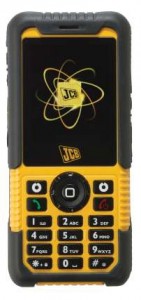 We've had the chance to play around with the Tradesman and we found the user interface to be fairly basic… Think of your old Nokia phone from several years back. The user interface seemed fairly intuitive when we used the phone and all of the basic features you'd expect from a phone are there: the ability to send and receive text messages, a phone book, basic alarm and calculator apps, etc.
What are the alternatives?
Several companies now offering "rugged phones" – the big players being Samsung and Sonim. Samsung recently launched the Xcover E2370 – an IP54 certified phone with a claimed 67 day standby time. They've also got the B2100 Solid Extreme (IP57 rating). Sonim is another key player in the "rugged phone" market: they've got a range of phones including the XP1300 CORE (IP68 rating) and the Land Rover S1 (IP67 certified) which has a claimed 62 day standby time.
Where can I buy one?
The JCB Toughphones can be purchased from the official website or through resellers such as Play.com. The recommended retail prices (RRP) are as follows:
Tradesman: £69.99
Sitemaster:  £109.99
Pro: £239.99
Pro-Talk: £249.99