The Galaxy Nexus is the world's first smartphone running the new Android 4.0 Ice Cream Sandwich. It's available today in the UK.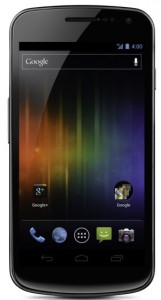 The Galaxy Nexus has been one of the most eagerly awaited devices of the year. Built jointly by Samsung and Google, the new device is the first in the world to featuring Android 4.0 Ice Cream Sandwich. Android 4.0 features a whole raft of changes including a totally redesigned user interface, improved multitasking, face unlock, improved text input and speech recognition, better tools for consumers with download limits, Android Beam for sharing content via Near Field Communication and an improved web browser. Please see our disclosure notice.
Unboxing Video
We've been trailing out the Galaxy Nexus and we'd like to present our first thoughts on the device and on Ice Cream Sandwich:
Demo of Data Usage Monitor
One of the exciting features for consumers in Android 4.0 is the data usage monitor. It allows you to track how much data individual applications are using, how much data you've used in total and it is possible to set up a limit at which 3G data will automatically be disabled. This is useful for people who are on a contract with a 500MB/1GB download allowance, etc.
In this video, I give a demo of the new 'Data Usage' monitoring feature in Android 4.0:
Galaxy Nexus VS Samsung Galaxy S II: Comparison
How does the new Galaxy Nexus compare to the Samsung Galaxy S II? In the following video, I compare the hardware design of both devices and the software running on them. I look at the different user interfaces (Android 4.0 Ice Cream Sandwich for Galaxy Nexus and Android 2.3 Gingerbread + Samsung TouchWiz for Galaxy S II) as well as the form factors, displays and multitasking functionality.
The following video gives an demonstration of the displays on the two devices. The Galaxy Nexus features a 4.65-inch Super AMOLED display at 720p resolution whereas the Galaxy S II features a 4.3-inch Super AMOLED Plus display at WVGA resolution (800×480)
A little bit of fun: An Ice Cream Sandwich easter egg
Video demo of how to access the easter egg in Ice Cream Sandwich.
Full review
A full review of the Galaxy Nexus and Android 4.0 will appear soon – please subscribe to this blog and our YouTube channel to see it first!
Disclosure Notice: As part of the "Samsung Mobilers" programme, Samsung have provided me with pre-release Galaxy Nexus device with the aim of raising awareness of the product and explaining the new functionality in Android 4.0 Ice Cream Sandwich. The views expressed in this article are totally my own and reflect solely my own experiences of using the device.