TVCatchup: Watch live Freeview television on your iPhone, Android smartphone, iPad
August 3rd, 2010
A website called TVCatchup allows you to watch 28 Freeview channels live on your iPhone or Android smartphone for free.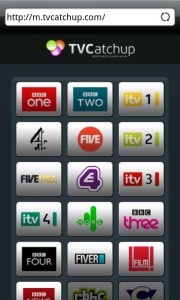 TVCatchup is a free website which allows registered users (free registration) to watch 28 Freeview TV channels live on their computers and mobile phones. Channels include the free-to-air channels from the BBC, ITV, Channel 4 and Five.
How do I get it?
To access TVCatchup on your mobile:
TVCatchup requires users to register before they can use the site. I had problems registering on the mobile site so I signed up via TVCatchup's desktop site.
What's the quality like?
TVCatchup offers a choice of a high quality stream and a low quality stream. From my own experience, the channels are certainly watchable. However, the pictures frequently "block" up when there is a lot of action – for example on sporting events. On the high quality stream, it still wasn't possible to see the ball on Wimbledon. I suspect that the quality will more than suffice for news, drama and documentary programmes.
The following screenshots give a rough idea of what it looks like (click to enlarge):
Will my smartphone support it?
TVCatchup streams video in the H.264 format. If your phone supports streaming H.264 media, it should support TVCatchup.
Can I use TVCatchup over a 3G connection?
Yes. TVCatchup allow this but I don't recommend it. Many mobile networks will prohibit you from streaming audio and video over their networks in the fair use policy. Furthermore, you will very quickly use up your monthly download limit and may incur extra charges for excess data. Even with "unlimited" internet you could use up your monthly fair usage cap in just 30 minutes. I recently illustrated how somebody watching live football on their mobile could run up charges of £2,000 per match. The World Cup is over now but the warnings still apply.
If at all possible, use TVCatchup over a wifi connection.
What bitrate are TVCatchup channels?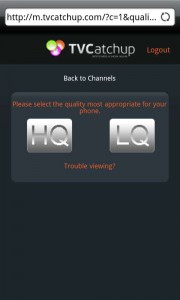 It looks like TVCatchup channels stream with a variable bitrate. Typical bitrates are:
High quality: 250kbps – 400kbps
Low quality: 100-150kbps
Do I need a TV license?
Yes. Unlike with services such as iPlayer, you are watching live television. However as a mobile phone is a battery-operated device, you only need a TV license for your main address. If you connect your phone to the mains whilst you watch TVCatchup, you may need an additional license.
According to Direct.gov (advice for students but applies to anyone):
A TV set powered by its own internal batteries, such as a pocket-sized TV or mobile phone, is covered by a licence at your parents' address. However, it must not be plugged into the mains while being used to receive television.

If there is no licence at your parents' address you will need to buy your own.

You need a TV licence for your main address.
Please note that I am not a lawyer. Please check that you are watching television within the terms of your TV license before using TVCatchup.
About Ken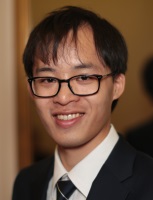 My passion is helping people to get the most out of their mobile phone. I've been blogging at Ken's Tech Tips since 2005.
Aside from writing about mobile technology, my interests are in software development, digital marketing and physics. Outside of the blog, I work with numerous technology companies helping them to explain their product and helping them to market it to consumers. Please get in touch for more information.