TVCatchup: Live TV service streamed to your browser – Freeview for your PC
August 22nd, 2009

photo: videocrab
In the UK, we've had video on-demand services such as BBC iPlayer, ITV Player, 4oD, Demand Five and Sky Player (subscription required) for a while. But live television over the internet is much newer and you've had to access content through a myriad of different websites requiring different technologies.
TVCatchup is a fantastic service with a clean interface, a decent selection of channels and it just works. It's the kind of thing that your IT team will absolutely hate – something which will grind corporate networks to a halt during major sporting events.
What is it?
It's a bit like Freeview for your computer. Television channels are transmitted across the internet. TVCatchup provides the EPG (electronic program guide) and the channels itself.
What do I need?
You need a modern web browser with Flash, a decent internet connection and an account on the TVCatchup website. Make sure you don't exceed usage limits for your ISP or you could be left with a huge bill. And you need a TV license too.
What channels are available?

photo: LoopZilla
The channel lineup is similar to Freeview. The following channels are currently available although TVCatchup say that as they are currently in beta, they cannot guarantee the availability of all of them.
BBC One
BBC Two
ITV1
Channel 4
Five
ITV2
Five USA
E4
ITV3
ITV4
More4
BBC Three
BBC Four
Dave
Fiver
Film4
BBC News
CBBC Channel
CITV
E4+1
Dave ja vu (Dave+1)
ITV2+1
Yesterday
Channel 4+1
ITV3+1
BBC Parliament
Is it legal?

photo: saschaaa
According to the TVCatchup website it is:
Yes. TVCatchup is fully compliant with the Copyright Designs and Patents Act 1988, as amended, and the broadcasters have fully participated as part of the process of assessing the legality of TVCatchup.
Can I use it abroad?
No – TVCatchup only works inside the UK. Additionally, the TVCatchup team have blocked common proxys. If you're on holiday, you're probably out of luck.
About Ken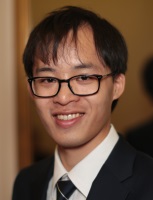 My passion is helping people to get the most out of their mobile phone. I've been blogging at Ken's Tech Tips since 2005.
Aside from writing about mobile technology, my interests are in software development, digital marketing and physics. Outside of the blog, I work with numerous technology companies helping them to explain their product and helping them to market it to consumers. Please get in touch for more information.