Top 5 Places to Listen to Free Music Online
July 31st, 2008
In this article, I look at some of the websites which are beginning to allow people to listen to music for free online and legally. By this I mean music on-demand where the listener has full control over what they listen to rather than streaming radio stations.
Free on-demand music is a whole different business model where music is free to the listener at the point of delivery. Industry experts estimate that on-demand streaming rates are about 1 cent per song. This means royalties for the can get fairly expensive quite quickly. So to recoup costs, most of these services are advertising funded.
1. Deezer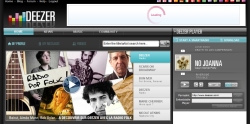 Deezer has a catalogue of millions of songs to listen to on demand. The interface is easy to use, the music is of a fairly good quality and there are additional features such as personalised "SmartRadio"s and social features. They allow embedding in websites and direct linking to songs. Unlike some other sites, Deezer has on-demand music as it's primary focus rather than using on-demand music to complement other features.
Deezer has agreements with Sony BMG and Universal.
Deezer is my personal favourite on-demand music website and I've recently interviewed Paul Ricard from Deezer for a feature on this blog.
2. Last.fm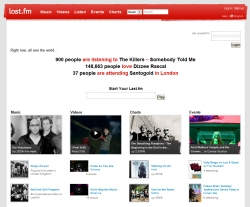 Last.fm began life as Audioscrobbler – a programme which allowed people to send details of the music they were listening to. Audioscrobbler would analyse the songs you listened to and would recommend similar music which might be of interest. When the site became Last.fm, the site added radio features. Earlier this year, Last.fm has added the ability to stream songs on-demand from their website. The down side is that it is only possible to stream each song a maximum of three times. But it does in my opinion have by far the best user interface and community.
Last.fm has agreements with Warner Music and Sony BMG.
3. YouTube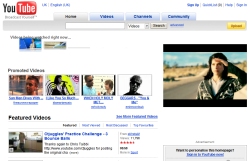 Unless you've been living under a rock for the last year, YouTube needs no introduction – the most popular streaming video website on the internet. Originally a hub for pirated music and videos, Google bought up the company and signed deals with the major music labels to allow them to legally show music videos on YouTube. Unfortunately, finding songs on YouTube sometimes means having to sort your way through poor quality concert recordings. And even when you find the official music video, the soundtrack on the video probably won't be identical to the studio recording. But pretty much every song ever recorded will be on YouTube. It's very difficult to use YouTube to "listen" to music for an extended amount of time but it's good for listening to the odd song or two.
Several websites such as Songza and MusicMesh attempt to provide a "nicer" user interface for listening to music on YouTube.
YouTube has agreements with Warner Music, EMI, Universal Music, Sony BMG… well, everyone really
4. imeem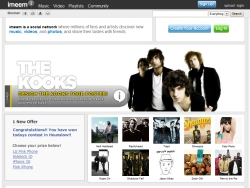 Imeem is a little bit like YouTube for music. It was set up by many of the engineers behind Napster. The site is first and foremost a social network around music providing all kinds of things such as video, polls, photos and blogs.
Imeem has agreements with the four large record companies which means it has a lot of songs. Many songs can be listened to in full but you'll be badgered to register and the user interface is pretty confusing and cluttered.
imeem has agreements with Warner Music, Sony BMG, EMI and Universal Music
5. iLike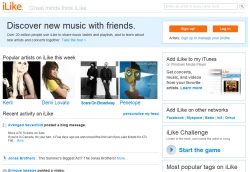 Probably like most people, I thought iLike was just a one of those Facebook application which clutters profiles. iLike's website is reminscent of Facebook's friend feed.
iLike has a fairly clean interface and allows you to stream a good deal of songs. The quality seems to be pretty decent but you only get to stream 25 songs per month. After that, you've got to pay.
I'd love you to join in the discussion about the future of music. Has the internet changed the way that you listen to music? Where do you get your music from? Will on-demand music replace the need to buy music?
About Ken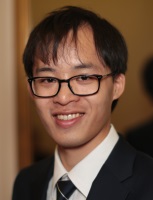 My passion is helping people to get the most out of their mobile phone. I've been blogging at Ken's Tech Tips since 2005.
Aside from writing about mobile technology, my interests are in software development, digital marketing and physics. Outside of the blog, I work with numerous technology companies helping them to explain their product and helping them to market it to consumers. Please get in touch for more information.