The Six Degrees of Separation – Now Just Three
September 25th, 2008

photo: Lincolnian
Some fascinating research by mobile communications company O2 found that the six degrees of separation (the theory everyone in the world can be linked in six steps) have fallen to just three due to modern telecommunications and social networking. However, instead of simply looking at the networks of friends, family and work, O2's study also considers shared interest networks.
All respondents were asked to make contact with an unknown person from destinations selected at random from across the globe using only personal connections. By using their shared interest networks the participants were able, on average, to make the connection in three person-to-person links.

For example, one of the respondents Katrina, 27 from Brighton, is a classical musician and leads a jazz band. She was asked to make contact with a Japanese jazz singer, Natsuo Murakami, halfway across the world. She contacted her record producer in Berlin via an email. He called his opposite number in Tokyo who had a register of all jazz singers in the country. Therefore making the link from Katrina to Natsuo in three personal steps.
According to O2, email and mobile phones had the most significant impact in reducing the degrees of separation to three.

photo: saschaaa
Great research. I must admit I've been astounded by some connections I've discovered over the last year or two. My summer job boss happened to be one of my physics tutor's PHD supervisors. My previous boss was the PHD supervisor of one of my physics teachers when they were at university a hundred miles away. My previous boss was also working with one of my university astronomy lecturers. A flatmate of one of my best friends at university (about 250 miles away) happens to be a friend of mine and they certainly didn't meet each another through me!.
Thinking about my own networks – having met many politicians including Boris Johnson, I'm no more than two steps away from Tony Blair, Gordon Brown, the Queen and so on. I certainly have Vladimir Putin, George Bush and Sarkozy in my three degrees of separation. Celebrity wise: I'm no more than two degrees of separation from Kylie Minogue, Tim Henman, Hayden Panettiere, Emma Watson, David Tennant… again, it's quite concievable that a large number of actors and celebrities are within my three degrees. Pretty amazing.
About Ken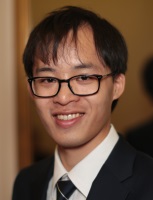 My passion is helping people to get the most out of their mobile phone. I've been blogging at Ken's Tech Tips since 2005.
Aside from writing about mobile technology, my interests are in software development, digital marketing and physics. Outside of the blog, I work with numerous technology companies helping them to explain their product and helping them to market it to consumers. Please get in touch for more information.