Spotify offers free streaming music; how does it compare to Deezer?
June 16th, 2009

photo: Jon Åslund
About a year ago, I introduced Deezer to readers of this blog – one of the websites which pioneered the whole model of free streamed music – music which was advertising supported. Paul Ricard of Deezer summed up the streaming business model very concisely in an interview with this blog:
"free of charge and legally, all kinds of music, from rock to hip-hop, jazz, electro and world music… While at the same time, artists and rights owners receive a share of advertising revenue"
I listed Deezer as the number one website to listen to free music. But how have things changed in the year since? Is Deezer still top dog for streaming music?
One challenger comes in the form of Spotify. Unlike Deezer, you need to download a separate programme – you can't tune in with just your web browser. The programme is obviously designed to resemble iTunes as closely as possible – it's neat, fast and just works. Although it is annoying having to download an additional programme, it does allow Spotify to achieve things that Deezer can't do with a browser-based website: for example multimedia keyboard support, Last.fm scrobbling and a spotify: protocol which allows you to directly link your friends to songs you like.
The sound quality on Spotify is fantastic. It sounds better than Deezer and the songs load more quickly too. But it does come at the cost of additional bandwidth. Spotify uses peer-to-peer technology. When your computer is on and Spotify is open, your computer is being used to share and distribute music to other Spotify users. If you're on a capped internet package, that could get costly. From my own observations, it uploads at approx 1kbps so it probably won't clog up the tubes though.

photo: marfis75
Spotify's library contains 6 million tracks (3 million tracks for UK listeners). It's a pretty decent library but there are some significant omissions such as Pink Floyd. There are songs available on Deezer but not available on Spotify; and vice versa.
Advertising. Spotify includes periodic audio adverts between songs as well as banner adverts within the programme. You wouldn't think the audio adverts were any worse than listening to the radio – but they are. At least on the radio you have a variety of adverts. Grown men have been driven to insanity by hearing a message from "Jonathan from Spotify" several dozen times each working day. Again, and again. And again. Spotify also have technology that forces you to listen to the adverts. Don't try muting your speakers or turning the volume down – it won't work. Deezer features banner adverts on it's website. They're not intrusive at all – they won't bother you when you've just got music on in the background.
Overall, Spotify is a very decent offering. It's got a fairly good selection of music in a good quality and the programme is more pleasant to use than Deezer. But there are some significant downsides – the main one being repetitive adverts. Don't let me understate just how much of a downside that is – advertising I can deal with, but not the same adverts every 10 minutes. The P2P nature of the programme is also controversial – both the BBC and Channel 4 have moved from P2P to browser for their video-on-demand offerings. It seems somehow strange to move from a browser-based offering in Deezer to a P2P-based offering in Spotify.
I'm personally still using Deezer as my primary on-demand music service, with Spotify as a backup for the songs which aren't available in the Deezer library. Your own milage may vary. Let us know what you think.
About Ken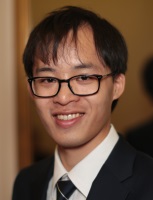 My passion is helping people to get the most out of their mobile phone. I've been blogging at Ken's Tech Tips since 2005.
Aside from writing about mobile technology, my interests are in software development, digital marketing and physics. Outside of the blog, I work with numerous technology companies helping them to explain their product and helping them to market it to consumers. Please get in touch for more information.