Skype & VoIP on the go – can it replace the mobile networks?
April 6th, 2009

photo: law_keven
One thing I've always wondered was whether (and if so, how) it might be possible to replace a mobile phone with a Wifi/VoIP solution.
Mobile telephony has huge markups in price and certainly consumers are not getting a good deal – that's why I've made an concerted effort to share cost-cutting tips on this blog. But the question remains: can we totally ditch the mobile network and go for a Voice over IP (VoIP) solution and how much would we save?
The closest solution I've yet found is to get something like a Nokia N810 Internet Tablet and to run Skype on it. You'll then want something like SkypeIn so that other people can call you from their landline and mobile phones and most certainly a SkypeOut contract or credit so you can call landlines and mobiles yourself. You can send SMS through Skype too although unfortunately, you can't recieve them through your SkypeIn number.
Calls cost 1.2p per minute to landlines which is a huge saving compared to what your mobile operator will charge you. However, calls to mobiles are still 14.4p and SMS text messages still 8p so these aren't really much cheaper.
Another benefit of this kind of solution is that you can access data services for free (browse the web, stream internet radio, read news feeds, update Facebook, etc.) – again over wi-fi.
But there are a couple of problems with this solution:
You can't recieve SMS messages. That sucks pretty badly.
If you're out of wi-fi range, nobody will be able to get through to you.

photo: Gaetan Lee
Not being able to recieve SMS is a pretty major problem but not something that can't be solved… other VoIP solutions might be able to handle that (does anyone know any?).
The lack of wi-fi is a major problem too. If you travel a lot, it's a real pain getting wi-fi reception everywhere. In your every day life you could be fine – you might be able to get wi-fi at home, university and your workplace. But the times when you're out and about – when you probably want to use your phone the most – you could have difficulty using your phone.
So I guess we're still some way away from being able to ditch the mobile phone network. The universal coverage of the mobile network is something wi-fi just can't match (WiMAX perhaps, one day?). And the cost savings which could be associated with using VoIP instead aren't huge – certainly not big enough to warrant losing the ease of use that comes with the mobile phone network.
About Ken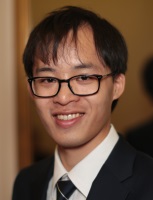 My passion is helping people to get the most out of their mobile phone. I've been blogging at Ken's Tech Tips since 2005.
Aside from writing about mobile technology, my interests are in software development, digital marketing and physics. Outside of the blog, I work with numerous technology companies helping them to explain their product and helping them to market it to consumers. Please get in touch for more information.