Seen Elsewhere: Guest posts on mobile and development, commerce, display technologies & more
February 14th, 2012
Head over to the giffgaff blog to find out about the future of mobile commerce and fitness applications, plus the role of mobile technology in developing countries.

Over the past couple of months, I've been guest posting on the giffgaff blog about a variety of topics such as the social implications of mobile technology and the future of mobile applications and hardware.
giffgaff is one of the UK's virtual mobile network operators. They're part of O2 but are run as a separate business providing only Pay As You Go offerings (see giffgaff review article). They've got a fab community over there with lots of people who love mobile technology so it's worth checking out.
Mobile Applications and the Future Mobile Applications
Mobile Technology in Developing Countries
Mobile technology has been transforming lives in many developing countries, revolutionising banking, healthcare, education and more. In this article, I look at how services such as Kenya's M-Pesa and Uganda's Google Trader have allowed people to invest for the future and helped farmers to sell their goods at market more efficiently. I also look at how applications such as Episurveyor have been used to prevent potential disease epidemics.
Mobile Commerce: Paying for stuff using your mobile phone
From takeaway pizza in England to conveyor belt sushi in Japan, we take a tour of mobile-based payment technologies and find out what the mobile-powered wallet might look like. Whilst current smartphone technology allows you to pay for coffee with a barcode or pay for pizza with PayPal, the mobile phone of the future will feature Near Field Communication (NFC) wireless technology and will allow you to pay for things by tapping your phone on a reader. It could provide better security, lead to shorter queues at the checkout and eventually replace your physical wallet.
Mobile Fitness & Running Apps
Research shows that we are more successful at keeping New Year's Resolutions when we break them down into smaller goals and regularly measure our progress towards achieving each of those goals. With the promise of "getting fit" and "doing more exercise" being one of the most popular New Year's Resolutions, we looked at various smartphone applications such as RunKeeper and CardioTrainer that allow you to track your workout.
Augmented Reality Applications
Augmented reality provides a new way of seeing the world which has been made possible by the combination of GPS, 3G and image recognition technologies in the latest smartphones. Examples of augmented reality applications include those which show information about nearby shops, applications which show historical information, applications which can translate between languages in real time and more immersive games that make use of augmented reality technology. The darker side of augmented reality is facial recognition: there are many possible privacy implications that we may not be so relaxed about.
Mobile Hardware and the Future of Mobile Technology
Operating Systems
Your mobile phone's operating system is the very basic software that it runs in order to communicate with the mobile network, to interface with all of the hardware components such as the camera and to run all of the other applications on your phone. The battle is currently raging between Apple's iOS operating system, Google's Android operating system and Microsoft's Windows Phone operating system. In this article, I compare and contrast the three operating systems. I also look at alternatives such as BlackBerry OS, Symbian, Bada and WebOS.
GPS & Maps
GPS satellite positioning is a standard feature on the smartphone of today and allows you to use services such as Google Maps and turn-by-turn GPS navigation on your phone. In this article, I investigate how GPS technology works, what the drawbacks are and how systems such as assisted GPS and the Russian GLONASS system can help to provide a faster and more accurate fix on your location. I also investigate alternative technologies such as wi-fi positioning and network positioning.
Display Technology: LCD & Organic LED
The battle lines have been drawn in the fight between mobile display technologies. Smartphones such as the Apple iPhone 4S and HTC Sensation XE phones use a LCD display (liquid crystal display) whereas other smartphones such as the Samsung Galaxy S II and the Nokia Lumia 800 are using OLED technology (organic light emitting diodes). The key difference is that whilst organic LEDs can emit light directly, LCDs cannot. Hence, LCD displays require a backlight – that means contrast is lower and battery life is shorter. I investigate the differences between LCD and OLED technology and peer into the future to look at 3D displays, flexible displays and e-ink displays.
Voice Recognition on Mobile Phones
One of the new features of the iPhone 4S which has caught the public imagination is the Siri virtual assistant. However, look beyond the iPhone and you'll find voice recognition built into Android and all kinds of applications such as Google Translate. In this article, I investigate the history of voice recognition from IBM's initial prototype in 1962 to today's much more sophisticated and cloud-based voice recognition services.
Hardware Keyboards VS Software Keyboards
BlackBerry devices were popularised by their QWERTY keyboards – with the ability to text and e-mail at lightning speeds, BlackBerry devices became incredibly popular amongst businessmen and teenagers alike. More recently, touchscreen-based phones such as the iPhone and Android-based devices have become more popular. These smartphones lack a physical keyboard and have an on-screen one instead. In this article, I look at the hardware VS software debate and look forward to see what the mobile-based keyboard of the future might look like.
Following my guest posts at the giffgaff blog
You can follow my guest posts at the giffgaff blog. Alternatively, sign up for the RSS feed of my articles.
About Ken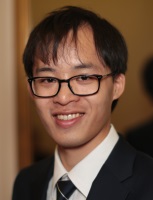 My passion is helping people to get the most out of their mobile phone. I've been blogging at Ken's Tech Tips since 2005.
Aside from writing about mobile technology, my interests are in software development, digital marketing and physics. Outside of the blog, I work with numerous technology companies helping them to explain their product and helping them to market it to consumers. Please get in touch for more information.