Organising your schedule with Google Calendar & your mobile phone
January 6th, 2009
With the credit crunch, we're all trying to find ways to save money. Over the next few weeks, I hope to deliver a selection of credit crunch busting tips for the technology enthusiast.

photo: William Hook
In this series of posts, I will talk about how you can get yourself the best features of the Apple iPhone 3G without having to buy an iPhone 3G – a phone which is as well known for its high price as its speed and style.
Personal organiser features (calendar, to do list, etc.) (this post)
Access to my email (Gmail and Microsoft Exchange) account on the go
Google Maps on the go
To recap, I have had a Sony Ericsson k750i for over two years which I've now "transformed" into a smartphone to access the internet, listen to music, organise my schedule and to stay in touch via e-mail.
What's wrong with my phone calendar?
The k750i calendar system sucks. It's a pain to use. You could use the built in reminder system, but it'll notify everybody in the room, even if the phone is on silent. You can't set events up to occur every other week; you have to manually set a custom reminder for each event, the interface for viewing events isn't pretty. It's OK for simple scheduling, but a more powerful system would be desirable.
Using Google Calendar

photo: Burning Image
When Google Calendar first came out, I was a little sceptical about it. It really didn't seem to do a lot more than any other calendar system, it just allowed you to subscribe to other people's calendars easily. And I wondered why on Earth I wanted to know the school timetables of my friends, etc. I just kept with the old fashioned system – a paper calendar. It did the job, it was quick and simple and more importantly: I didn't need to boot up my computer in the morning to check my schedule for the day.
This October, I decided to give Google Calendar a go and I've loved it since. For me, the best features of Google Calendar are:
Free SMS text message notifications. Google Calendar allows you to set up customisable SMS alerts. On my account, I've set up three calendars: Events, Deadlines and Reminders. Items on my events calendar tend to be things like parties, meetings, occasonal special lectures, etc. For these, I've set up an SMS alert 3 hours before each event. Deadlines are highlighted in red on my calendar and I automatically recieve a text every day in the 3 days leading up to the deadline. Reminders (of the type that the cleaner is due to visit) are of a lower priority, they don't have any SMS alerts associated with them. It's a fantastic system, and it works really well.
Integration with Gmail. I often receive emails asking me to be in certain places and certain times. There is Calendar/Gmail integration so if Gmail guesses that the email is about an event, it'll offer you a quick shortcut to add it to your calendar. It'll even automatically fill out the event name, date & time.
You can subscribe to your own Facebook events. You can have Google Calendar import all of your events from Facebook (howto below).
Get it on your mobile. You can access your light version of your Google Calendar on your mobile. Point your phone at http://www.google.com/calendar/m – access it through Opera Mini for best results. From here, you can add events to your calendar too. If you don't have a data connection or prefer not to use it, synchronise it to your phone instead (howto below).

photo: [[MorphoMir]]
How to: Subscribe to Facebook Events in Google Calendar
Go to the Facebook Events application
Click on the Export Events at the very top of the page
Copy the URL given
Go to Google Calendar
Click Add > By URL under the Other Calendars block in the sidebar
Paste the URL you were given here.
Once you've done this, you can set up SMS text reminders on your Facebook events or whatever you like.
How to: Synchronise your Google Calendar with your Sony Ericsson Phone
The fabulous MyPhoneExplorer application for Sony Ericsson phones can synchronise your Google Calendar with your phone's built in calendar system. You'll lose certain things on your Sony Ericsson version e.g. events that repeat every 2 weeks will repeat every week instead. That's just due to a limitation of the phone's calendar system.
Conclusions
Google Calendar is a fantastic system to manage your schedule. It's great, especially if you use different computers all the time – your calendar moves around with you and can be accessed anywhere in the world. Google Calendar's integration with Gmail, Facebook Events gives it an edge over competitors.

photo: law_keven
Where I feel Google Calendar is at it's best is how you can then use it on the go: on your mobile phone. Google doesn't charge for SMS reminders which is great: you can set up as many as you like. For a little bit more when you're away from a computer, you've then got the mobile version of Google Calendar.
With Google Calendar, you'd never have to worry about synchronising your mobile phone with your computer (although the option is there). You don't have to worry about not being able to access your calendar when on another machine. And it really doesn't matter how good or bad the calendar system on your phone is: all you really need is the ability to recieve SMS text messages.
Still to come…
Keep an eye on the blog over the next few days to find out how to use your current phone for email and to access maps on the go.
About Ken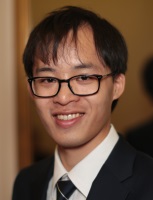 My passion is helping people to get the most out of their mobile phone. I've been blogging at Ken's Tech Tips since 2005.
Aside from writing about mobile technology, my interests are in software development, digital marketing and physics. Outside of the blog, I work with numerous technology companies helping them to explain their product and helping them to market it to consumers. Please get in touch for more information.