Orange Voucher Code: Up to £240 off (£10/month discount) on 24-month Pay Monthly Contract
March 28th, 2011
Orange has launched a new voucher code offering a discount of between £181 and £242 on a 24 month Pay Monthly contract.

Deal Finished: This voucher code has expired and no longer works. You can still click through to the Orange website and purchase as normal but this voucher code will not work.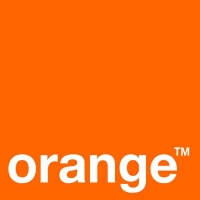 If you're looking to buy a new Pay Monthly contract on Orange, you could save between £7.56/month and £10.10/month on high-street prices by buying online and using a voucher code (expires 3rd April 2011). In this article, we outline how you can obtain your discount, some of the phones available on Orange and how you can keep your existing phone number when you switch to Orange.
How much is the discount?
The voucher code offers a £5/month discount on 24-month Pay Monthly contracts of £20/month or above (adding up to a saving of £120 over the 24 months). Combining this with the online discount which is offered on all tariffs of £25/month and above and you could save up up to £10/month compared to high street prices. This amounts to £240 over the course of the contract.
The exact level of saving depends on the cost of the contract you select:
| Monthly Price | Voucher Code Saving | Online Saving | Combined Monthly Saving | Total Saving (24 mo.) |
| --- | --- | --- | --- | --- |
| £20.42 and below | – | – | – | – |
| £25.54 to £35.74 | £5.00/month | £2.56/month | £7.56/month | £181.44 |
| £40.85 and above | £5.00/month | £5.10/month | £10.10/month | £242.40 |
For example, using the voucher code and the online discount, a £25.54/month contract would be discounted down to £17.98/month for the life of the contract. This amounts to 30% off or the equivalent of 7 months free line rental.
Unfortunately, the online discount and voucher code cannot be used with BlackBerry or iPhone tariffs. It can be used with other smartphones such as Android smartphones or phones running Windows Phone 7.
How do I use the discount code?
Select a phone from the Orange website
Pick a plan. The Dolphin plans are generally the most popular plans and provide the best value: you'll get unlimited texts and internet included. Panther plans offers access to Orange Maps and bundled photo messages but tends to be more expensive. You must select a 24 month plan to use the voucher code.
On the checkout page, click on "Enter promotional code".
Enter the code PROMO120 in the "Discount code" box. Note that the code is case-sensitive. The code expires on 3rd April 2011.
Click on "Get discount" and your discount should be applied.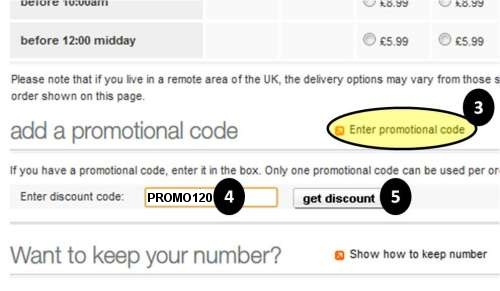 Note that the voucher code is not valid with Blackberry tariffs or iPhone tariffs.
What is Orange Care? Why is it automatically added to my plan?
Note that Orange automatically adds Orange Care to your basket. This is a £6/month phone insurance plan and is listed under the "Additional services" section ofnthe order page. We recommend removing this as you may already have mobile phone insurance. If you need mobile phone insurance, it might already be covered under your home insurance. Alternatively, you can probably get a better deal elsewhere.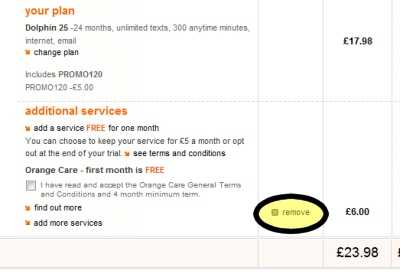 What phones are available on Orange?
Orange have all of the latest smartphones including Android phones such as the HTC Desire HD and the Samsung Galaxy S and Windows phones such as the HTC 7 Mozart and Samsung Omnia 7.
Orange exclusively range the HTC 7 Mozart which is available free for £28.19/month with the voucher code:
A full list of available phones can be found on the Orange website. The phones are available on a range of plans starting at £15/month.
How much do the plans cost after the discount?
The Dolphin plans are the most popular. The online price with the voucher code compares to high-street prices as follows:
| High Street Price | Online Price (with discount) | Minutes | Texts | Internet |
| --- | --- | --- | --- | --- |
| £15.32/month | £15.32/month | 50 | Unlimited | 750MB |
| £20.42/month | £20.42/month | 100 | Unlimited | 750MB |
| £25.54/month | £17.98/month | 300 | Unlimited | 750MB |
| £30.64/month | £23.08/month | 500 | Unlimited | 750MB |
| £35.74/month | £28.19/month | 700 | Unlimited | 750MB |
| £40.85/month | £30.75/month | 1200 | Unlimited | 750MB |
Note that not all phones are available on all plans. See the Orange website for more information. For details about what 750MB actually corresponds to in real-world usage, see our detailed guide on mobile download limits.
I don't want a new phone. How can I save money on my contract?

photo: Pink Sherbet Photography
If you don't want a new phone, the best thing to do is to switch to a SIM-only contract. Most people will save around £180/year on their mobile contract by switching. Take our SIM Only Challenge to find out how much you'd save or see our guide to the best value SIM-only tariffs and best value SIM-only tariffs for smartphones.
Can I use this voucher code with SIM-only plans?
No. This voucher code only works with 24 month Pay Monthly contracts which are purchased with a new handset.
Can I keep my existing phone number when I switch to Orange?
Yes. You'll need to obtain a PAC Code from your existing network. We've got a step-by-step guide to switching from your current network to Orange.
Where can I take advantage of this offer?
Click through to the Orange Shop and make your purchase there. The promotional code to enter at checkout is PROMO120. The code expires on 3rd April 2011. Please note this deal is not available on high street stores.
About Ken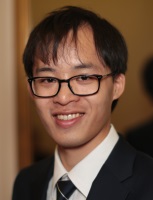 My passion is helping people to get the most out of their mobile phone. I've been blogging at Ken's Tech Tips since 2005.
Aside from writing about mobile technology, my interests are in software development, digital marketing and physics. Outside of the blog, I work with numerous technology companies helping them to explain their product and helping them to market it to consumers. Please get in touch for more information.