Orange to integrate credit cards into mobile phones
March 10th, 2009

photo: Asim Bijarani
Mobile Choice reports that mobile phone network Orange is planning to integrate a credit card into it's mobile phones.
The operator has struck a partnership with Barclaycard, the credit card from Barclays bank. Customers just have to pass their phones in front of a scanner to pay for things, and a chip in the handset will make the charge to their Barclaycard account.
Orange also gives a timemap:
Orange is in discussions with manufacturers to add these new handsets to their road maps. "We'll start seeing the first handsets in 12 to 24 months, but they won't be available immediately," says Orange spokesman Matt Sears. "In terms of widespread adoption, we're don't see it till 2012."
Looks like they're essentially sticking a Visa Paywave chip inside a mobile phone.
This might also be combined with Barclay's OnePulse credit card which combines your credit card with an Oyster card (a touch-and-go payment system for public transport in London).

photo: amandabhslater
Is this useful? Well, perhaps. If you lose your phone or flush it down the toilet, you've also lost the ability to use public transport and access to your credit card. Talk about putting all your eggs in one basket. It might be tricky when you lose your phone having to get a replacement and then load your Oyster and credit card back onto it. Seeing as you can only use it for payments under £10, would you really stop carrying around your credit card? If not, how would this save any time or hassle? And what if you wanted to switch network at a later date?
But there could be some interesting benefits too. For example, what if you could type your PIN in on your phone keypad? This would activate the payment chip. As you're typing the PIN into a trusted device, you no longer have to worry about whether a Chip&PIN machine is "real". Secondly, your phone could keep track of all of your payments and tell you exactly how much you've got left in your account.
About Ken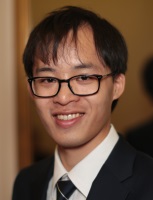 My passion is helping people to get the most out of their mobile phone. I've been blogging at Ken's Tech Tips since 2005.
Aside from writing about mobile technology, my interests are in software development, digital marketing and physics. Outside of the blog, I work with numerous technology companies helping them to explain their product and helping them to market it to consumers. Please get in touch for more information.