New Mobile Guides, Twitter and Ken's Tech Tips on your mobile
December 20th, 2009
We've got some new and exciting changes at Ken's Tech Tips…
Mobile Guides – All of our mobile tips in one place
Over the years, we've amassed hundreds of mobile tips. We're now pleased to present them in one place for ease-of-access and as a one-stop-shop for all your mobile-related tips. We'll keep adding to these guides in the new year so keep your eyes peeled!
Changing phone or switching tariff?
How to choose a tariff and phone; things to look out for; how to switch network and transfer your number.
Money Saving Tips for Your Network
Whether you're on O2, Orange, T-Mobile, Three, Vodafone or a different network… take advantage of these freebies!
Get the most out of your mobile
Use your mobile for social networking, entertainment and to organise your life.
Follow us on Twitter
You can now find out about all our new mobile tips through Twitter.
Follow us on Twitter (@kenstechtips) for updates delivered straight to your Twitter homepage.
You can also send us a message through Twitter: we'd love to know what you thoughts on the site, the mobile industry and hear your tips.
Ken's Tech Tips on your mobile
As a blog about everything mobile, it only makes sense that you should be able to read us from your mobile phone too!
If you're accessing Ken's Tech Tips from an iPhone, iPod Touch, Blackberry Storm, Palm Pre or an Android phone you'll now see an optimised interface for your mobile phone. It'll look something like this: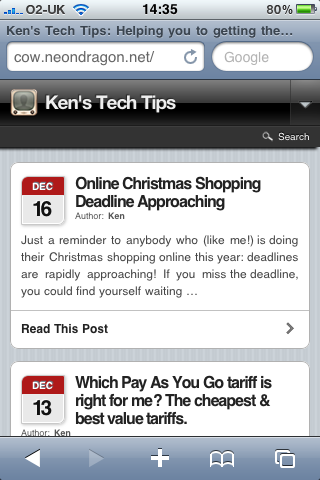 As before, you can access the site through the normal URL: http://kenstechtips.com/. We'll automatically show you a version of the website which is optimised for your phone. If you prefer to see the full "standard" version with all the bells and whistles, scroll to the bottom of the page and turn off the "Mobile Theme".
Any comments?
As ever, we'd love to hear your thoughts on the site and the changes – please feel free to drop me a line at ken at kenstechtips dot com.
Merry Christmas!
All that's left is for me to wish you all a very Merry Christmas and a prosperous New Year! We'll continue to deliver you news of some of the best mobile tariffs and applications in the new year so do keep reading!
About Ken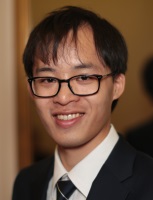 My passion is helping people to get the most out of their mobile phone. I've been blogging at Ken's Tech Tips since 2005.
Aside from writing about mobile technology, my interests are in software development, digital marketing and physics. Outside of the blog, I work with numerous technology companies helping them to explain their product and helping them to market it to consumers. Please get in touch for more information.