A Chat With David Schwartz, Music Search Engine, Jogli CEO
November 19th, 2008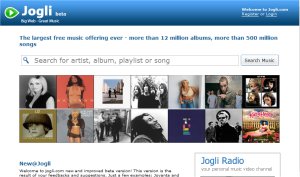 Jogli is a search engine and media player for free music. It claims to have 12 million albums and 500 million songs, all available for listening in a clean and tidy interface. It's certainly an impressive index and you'll probably find most of the music you're looking for.
Although Jogli crawls the web for music, the vast majority of content comes from YouTube. That has both blessings and shortcomings: Because it piggybacks on YouTube, Jogli doesn't have to pay royalties or individually sign agreements with media companies. This means Jogli can offer more music. The downside is that some videos are "broken" (no longer exist), of a poor quality or misindexed.
I caught up with the Jogli CEO David Schwartz. I asked him about Jogli, the future of music on the web and the mobile and how he believes Jogli differs from other similar sites.
First of all, could you tell us a little bit about Jogli?
Jogli is a search engine for music. It scans the internet for existing music and music video clips, and then indexes the music in order to enable an easy and efficient search. As a result, users have access to huge free inventory of music.
Users can search and listen to any desired album (out of 12 million albums!), music video clips, individual tracks, and other users' playlists. They can also view the lyrics, artists' bios, image galleries, etc.
The story behind Jogli It's basically fulfilling a personal dream – I wanted to make my dream of going to a web site or a music shop and get all the music I like for free – true. I believe that Jogli does to music what Google did to the internet – you want a web site, you go to Google, search for it – and there it is. Well, it's the same with music now – you go to Jogli, you search for the music you want – and there it is – just click and play.
"All the music in the world is going to be available for free on any mobile platform in less then a year."
Are the days of people going out to buy CDs or paying for a song on iTunes are behind us? What, do you feel, is the best way of giving people access to music whilst ensuring artists are properly compensated for their work?
Well, as for buying CDs – yes, that's ancient history these days. iTunes and other on line music shops – well, at my humble opinion, they will die soon enough. My belief is that as all the music is going to be available for free on the web (99% of it is available already!) and music search engines, like Jogli, will allow immediate access to it.
While it's easy to tell how people are going to access music, it's a bit harder to predict how artists are going to make money of it, and how the music industry is going to look.
My personal guess is:
Web sites that broadcast music (like YouTube) will share with artists their revenues on advertisements.
It's going to be the end of traditional music labels, radio stations and other conservative music institutions
We are going to see much more young, revolutionary and independent music out there. As artists will no longer need mediators like labels, and will be able to access their audience directly through the web (we already see it happening in MySpace, YouTube and Jogli)
We are going to see less "super mega stars" like Madonna, as the web is less centralistic then traditional industries.
We've seen people streaming Pandora internet radio to their iPhones. Nokia has launched their "Comes With Music" phones where customers have access to free music downloads for 12 months. How do you think the convergence between music and mobile will develop in the future and how will music websites such as Jogli be a part of this?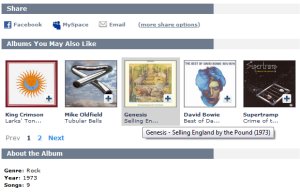 All the music in the world is going to be available for free on any mobile platform in less then a year. We in Jogli are already working on extending our web sites to Nokia devices, iPhone and Android. Think about it – your phone, which is also you portable music player, is going to allow you access to millions of albums and hundred of millions of songs! Just click and play! – Its amazing!
"Jogli allows people to listen to whole albums, play personal "MTV" channels though its radio feature, gives access to the whole lyrics"
Do you feel the music industry has been receptive to working with startups and smaller music websites? How does a small company compete in the world of large record and media companies making million dollar deals?
Well, traditional music industry knows it's a matter of life and death for them – they have to get a foot in the web door. As a result, the "traditional industry" became very involved. Just a few examples – partnerships with YouTube, the purchase of last.fm and the eagerness to invest money in Jogli (we got several investment propositions from the traditional music industry).
Yet- the current financial crisis may change all that…
With Jogli's content coming primarily from Google's YouTube service, how do you feel Jogli provides additional "value added" in this area?
Music experience is far more then listening to one song (which YouTube does great). Jogli allows people to listen to whole albums, play personal "MTV" channels though its radio feature, gives access to the whole lyrics – and much more. We provide a full and exciting music experience.
By the way – Youtube helped us and supported us amazingly. And we are grateful. These guys are cool.
How does Jogli deal with YouTube content which is mistagged, mislabelled or of a poor quality?
We have algorithms designed to find the best option for each song. This algorithm uses not only textual meta data (such as file name, description, number of views, etc.) but also the actual file, its quality and its size.
Naturally, we don't have 100% success (though we are not so far!). When you encounter bad quality or wrong result you can click "get alternatives for this song", then you will get a list of options to choose from. We are aggregating these choices to improve the results.
"We intend to…provide the largest offering of music and give our users the best music experience existing."
What do you feel differentiates Jogli from the rest of the crowd – the music websites such as Deezer, MySpace and Last.fm?
First of all – Jogli has much more music – 12 million albums and 500 million songs, secondly- the experience we offer is more cool – as we offer much more then the music only.
What direction do you see Jogli going in, in the future?
In the very near future we are going to launch a widget that will allow anyone to place any albums or playlists in their web pages and blogs. Then – expand to mobile.
For the long term – Our mission is to be the best and most popular music web site in the world – no less. We intend to accomplish this by remaining 100% free, provide the largest offering of music and give our users the best music experience existing.
Finally, what are you listening to at the moment?
A huge thank you to David for taking the time to speak to Cow's Blog. On behalf of our entire community, I'd like to wish David all the best of luck with Jogli. I am sure we are all very interested in seeing which direction Jogli goes in!
I'd love to know how you listen to music and how you think the way that we interact with music will change over the coming years. Drop us a comment or an email!
About Ken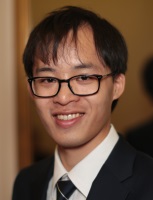 My passion is helping people to get the most out of their mobile phone. I've been blogging at Ken's Tech Tips since 2005.
Aside from writing about mobile technology, my interests are in software development, digital marketing and physics. Outside of the blog, I work with numerous technology companies helping them to explain their product and helping them to market it to consumers. Please get in touch for more information.