iPhone 3G contracts ending now: your options, alternative money saving tariffs
January 30th, 2010
Thousands of iPhone 3G contracts are coming to an end this month. This means it's now possible to switch tariff or network and you can save between £180 and £300 over the next year by switching.

If you bought an iPhone 3G from O2 at launch in June 2008, your 18-month contract will be coming to an end this January. In this article, we explore the options which are now available to you. There are some huge savings to be made: most people should be able to save at least £180/yr with a quick phone call and other alternatives can give savings of up to £300.
Keep your iPhone 3G and Switch to O2's Simplicity for iPhone
O2 offer two secret 'Simplicity' tariffs for iPhone customers who have completed their original contract. The cheaper of the two options costs £20/month giving you a saving of least £15/month on your current contract. O2 don't advertise the tariff but we wrote about it last month and most readers have reported success in switching. It takes just a quick phone call to change (several readers said it took just 5 minutes) and you'll start saving straight away.

photo: Jeff Kubina
Simplicity 20 for iPhone (£20/month) offers 600 minutes, 1200 texts, unlimited web & wi-fi and visual voicemail.
Simplicity 30 for iPhone (£20/month) offers 1200 minutes, 2400 texts, unlimited web & wi-fi and visual voicemail.
Both are one-month rolling contracts so you are free to leave whenever you want.
In order to switch, you'll need to call O2 Retentions and ask them to switch you over. See our guide to O2 Simplicity for iPhone for more information.
Pros:
Easy to switch
Cost saving of at least £180/year (at least £15/month)
One-month rolling contract
You can keep visual voicemail
Cons:
Compared to doing nothing and staying on the normal iPhone tariff… we can't think of any!
There are some cheaper deals around.
Keep your iPhone 3G and switch to a contract on another network

photo: kevindooley
It is now possible to unlock your iPhone from O2 for free. Unlocking your iPhone suddenly opens up a lot more options to you such as joining a different network. You'll want to look for SIM only tariffs from the other networks. As SIM only tariffs only provide you with airtime and don't provide you with a phone so they are cheaper than traditional contracts. Make sure you have a generous data allowance on that plan though.
There are some fantastic SIM only deals in the market. We compared 49 SIM only tariffs in one of our recent guides and also explored the UK's 6 best value SIM only tariffs for smartphones.
Of particular note is Three's £15/month tariff which offers 300 minutes, unlimited texts and unlimited internet. Switching to this tariff will give you a saving of at least £240/year.
Pros:
Huge cost savings (at least £240/year compared to staying on a normal iPhone tariff)
You might experience better reception and reliability on a different network if you've had problems with O2
One-month rolling contracts mainly
Cons:
Keep your iPhone and switch to Pay As You Go

photo: Matt Burrows
Recently we've seen a huge explosion in the free allowances that come with Pay As You Go tariffs and for many people they could now work out to be cheaper than contracts. We cover these tariffs in our 'Which Pay As You Go tariff is right for you?' guide. PAYG is a great option for anyone who doesn't make a lot of calls and uses their iPhone mainly for texts & internet.
If you would like to stay on O2, the 'Text and Web' tariff gives you unlimited free texts and 500MB internet for a month on top of your £15 top up.
For a little bit more work (i.e. unlocking your iPhone and obtaining a PAC code) you can sign up to a PAYG tariff on a different network. T-Mobile offer free internet and texts on top of your £10 top up. If you're topping up £10 per month to get the free allowance, that's a cost saving of at least £25/month (£300 over the year)
Pros:
Huge cost savings (maybe £300/year compared to staying on a normal iPhone tariff)
You might experience better reception and reliability on a different network if you've had problems with O2
No contract
Cons:
Upgrade to iPhone 3G S

photo: Viernest
If you're unhappy with your iPhone 3G and want to upgrade to an iPhone 3G S (the Apple website has a side-by-side comparison of the two phones) you now have over 20 tariffs to choose from. Use our price comparison website to find out which tariff gives you the best deal and to ensure you're not paying for minutes and texts that you won't use. If you send a lot of texts, you might want to consider Vodafone who offer unlimited texts on all of their tariffs.
If you decide to switch to Tesco Mobile, Orange or Vodafone then you will need to obtain a PAC code from O2 in order to transfer your number.
Be aware that there are rumours of a new iPhone 4G this June. If you sign up for a new 18-month contract, be aware that you won't complete your contract until June 2011 – a whole year after the launch of the iPhone 4G.
Pros:
New iPhone 3G S provides greater speed and some new functionality
Visual Voicemail
You can sell your old iPhone 3G for cash (it might cover the cost of your new 3G S)
Cons:
You will be stuck with the 3G S for another 18 months; you won't be able to switch to the iPhone 4G when it is released
Expensive option but some better deals now available
Conclusions
With the rumours of a new iPhone 4G just around the corner, we feel it's a bad time to upgrade to iPhone 3G S especially given the upgrade is incremental. We believe a much better option is to switch to Simplicity for iPhone until the iPhone 4G is released. For some people there are some greater savings to be had by switching to SIM only tariffs on other networks or a Pay As You Go tariff. We actively encourage you to switch if this is the case for you.

About Ken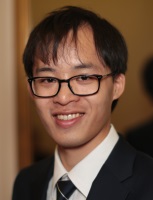 My passion is helping people to get the most out of their mobile phone. I've been blogging at Ken's Tech Tips since 2005.
Aside from writing about mobile technology, my interests are in software development, digital marketing and physics. Outside of the blog, I work with numerous technology companies helping them to explain their product and helping them to market it to consumers. Please get in touch for more information.