Interview: Paul Ricard of Deezer
July 29th, 2008
In a series of articles, Cow's Blog is exploring the future of music. In this article, I catch up with Paul Ricard from music website Deezer.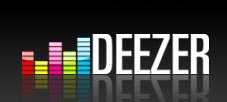 Paul Ricard is the country manager for the UK at Deezer.com. Deezer is a free music on demand website with the stated aim of offering "free of charge and legally, all kinds of music, from rock to hip-hop, jazz, electro and world music… While at the same time, artists and rights owners receive a share of advertising revenue".
I had a chat to Paul about the Deezer "vision", the effect of the "always on" culture on the way we listen to and interact with music and Deezer's plans for the future.
Can you just clarify the legal status of Deezer for us? Is Deezer available worldwide or only in certain territories?
To sum up, before explaining more precisely, Deezer is now 100% free and LEGAL! Actually, Deezer concluded agreements with different labels, including Majors such as Universal, but also with associations collecting authors', composers' and publishers' rights (SACEM in France, MCPS-PRS in the UK…) in order to be able to broadcast music legally, and under different forms: Radios, SmartRadio, and of course, Music-On-Demand. In this way, Deezer retributes the artists and right-owners whose songs are broadcasted on our website, and acts perfectly legally. Deezer is available worldwide, but the availability of a song in different countries depends on the agreements with the labels. For instance, we have an agreement with Universal that allows us to broadcast their songs in 32 countries!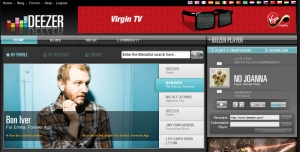 Deezer offers a catalogue of 2.5 million songs to listen to on demand or in radio stations
Deezer has won several awards for innovation. What do you think lies behind the success of Deezer?
First, I'd like to say that Deezer is still in a launch phase. We do not consider Deezer as a great success, but rather as a promising concept that we have to improve over and over again. However, I believe three things are the causes of Deezer's expansion: the quality of the interface and the content we provide, the totally legal broadcasts, and the team's ability to innovate day after day!
With the advent of broadband and mobile internet connections and the "web 2.0", how do you think this will change the way that people will listen to and interact with music?
Actually, the main change in people's way to listen to music comes from the ability, thanks to the Internet, to download – in the beginning illegally – any song you like.
When you consider this, you can conclude three things:
First, people don't want to pay any more for something they can have "for free" (even illegally)
Second, songs' lifetime is often very short, which means that people think albums don't deserve to be bought
And third: people don't have enough money to buy music. Not only because CDs are expensive, but also because there are more and more new artists to discover. Then, it is hard to buy all the songs you like, from all the artists you want to discover.
People really want a free unlimited access to music, and that's what Deezer has brought to them. Moreover, and that's the "web 2.0" trend, they want to be able to share the music they love with their friends, and to access it from anywhere in the world: that's also what Deezer offers them. This makes me believe I'm right when I say Deezer embodies music's future. For music-lovers, but also, for music-makers.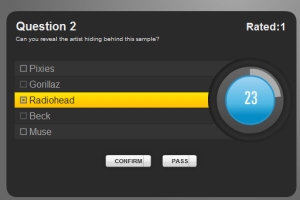 Deezer has experimented with social features such as "Blind Test" where friends can challenge each another to a music quiz similar to "Name that Tune!"
Do you think the music industry has been receptive to sites such as Deezer which offer people a different way to listen to music?
Of course, since, as I mentioned it above, Deezer answers to a demand that was only fulfilled by illegal download in the past. Nowadays, by bringing legality (and with it, retribution of the right-owners and the artists) to this system, the music industry could be nothing but receptive to such an initiative.
Deezer is a new entrant to the UK music market in a time where companies such as BSkyB and MySpace are launching their own online music services. How is Deezer different to the competition?
Actually, to answer this question, I will just say that our catalogue is now quite consequent, and we are offering more and more services to our users. Thus, we really feel that today people have all they need on Deezer, starting from "real" music-on-demand to a strengthening music community, various playlists, the ability to share music through more and more media… and more to come!
Are there any plans to open up Deezer for mashups with other services such as Last.fm and Facebook?
We are developing a Facebook app, and it is currently facing a test phase. I can assure you that we'll let you know as soon as it is ready.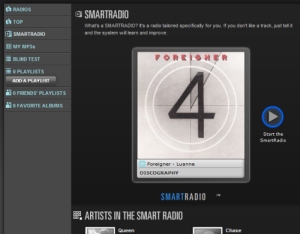 Deezer's SmartRadio is the perfect cure to anyone who is still suffering withdrawal symptoms from when Pandora closed it's doors to non-US listeners.
What is your favourite Deezer feature?
Since I like to conceive various complete playlists, I love to listen to SmartRadios, since it makes me discover new artists quite similar to those I like (and I have to admit it works really well!). I also quite like to create BlindTests, and share them with my friends.
Could you tell us a little bit about the future direction of Deezer?
Yes, I can tell you a little bit: It is going to move very fast, very soon! I can't tell you no more ;-), but I promise you won't be disappointed!
Finally, what are you listening to at the moment?
I'm currently listening to Jefferson Airplane – White Rabbit. What about you?
At the moment, I'm listening to Rockferry by Duffy! I heard it on a British Airways flight initially and when I got home I popped on Deezer to listen straight away! And I'm going to Reading Festival later this year so Deezer has just been so incredibly useful in listening to some songs by the bands that I'll see before I go!
An absolutely huge thank you to Paul for taking the time to chat to us! And I'd like to extend a thank you to the rest of the Deezer team for creating a fantastic and lively website.
I'd love you to join in the discussion about the future of music. Are you listening to Deezer? How will we be listening to music in the future? Has music become too commercialised; does it need to return to the grassroots?
About Ken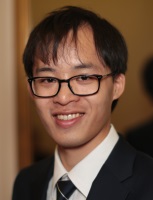 My passion is helping people to get the most out of their mobile phone. I've been blogging at Ken's Tech Tips since 2005.
Aside from writing about mobile technology, my interests are in software development, digital marketing and physics. Outside of the blog, I work with numerous technology companies helping them to explain their product and helping them to market it to consumers. Please get in touch for more information.