HTC Desire Android Smartphone: £15/month on T-Mobile with unlimited texts, internet
March 23rd, 2010
The HTC Desire "iPhone Killer" Android smartphone is available with 100 minutes, unlimited texts and unlimited internet for £15/month and £157.
T-Mobile £15/month deal expired… but here one for £18.75/month with more minutes…

Unfortunately, the T-Mobile HTC Desire £15/month tariff originally described here has now expired. However, Mobiles.co.uk is offering a free HTC Desire on the Orange network with 300 minutes, unlimited texts and 500MB internet for £25/month and 12 months half price. This works out as an effective price of £18.75/month.

Mobiles.co.uk is an online-only branch of the Carphone Warehouse. The version of the HTC Desire they sell is unbranded and unlocked for use on any network.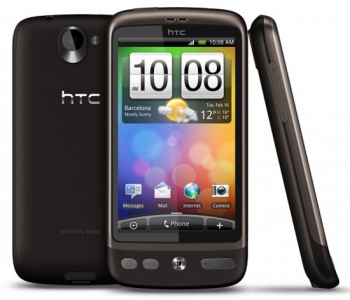 T-Mobile have just launched the brand new "HTC Desire" Android smartphone on tariffs from £15/month. It's a cutting edge phone and the price is great – it's half of the price of an iPhone.
What is the HTC Desire?
The HTC Desire is a smartphone running Google's Android operating system. Key specifications include:
3.7-inch AMOLED touchscreen
Google's Android 2.1 mobile operating system – the most recent version and access to Android App Store
1GHz Snapdragon processor
HTC Sense interface which displays information from Facebook, Twitter, etc.
5 megapixel camera with autofocus, face detection, flash and geotagging
GPS antenna with Google Maps and free GPS navigation
Supports external microSD cards up to 32GB (4GB micro SD card included)
See the full specifications at the HTC website.
Here's a promo video from HTC:
Why are we so excited about this?
This offer on T-Mobile has now finished. However, Three are offering a free HTC Desire on tariffs from £17/month. Although the monthly cost is higher than the old T-Mobile offer, the phone is free so the total cost works out to be cheaper.
The cheapest contract is £15/month (24 month contract) with 100 minutes, 100 texts, unlimited internet (3GB fair usage) and one free flexible booster. There are several options with the flexible booster: for example you can have unlimited texts, unlimited landline calls or an inclusive allowance of international calls. Unfortunately, the HTC Desire itself will set you back £157 but this isn't too bad – it's only slightly more than you'd pay for a feature phone (a phone which is not a smartphone) on Pay As You Go.

To summarise, using the "unlimited texts" flexible booster, it is possible to have the following for a total cost of £517 after 24 months:
HTC Desire
100 minutes
Unlimited texts
Unlimited internet
For those who want 300 minutes per month, pay an extra £34 upfront and you'll get 300 minutes per month (meaning you pay £191 for the phone). The total cost of this plan is £551 over 24 months. More minutes are available on higher priced plans.
* Please note that this article has been updated since it's original publication. See the footnote of the article for more information.
How does the price compare to the iPhone?

photo: William Hook
According to our iPhone price calculator, a comparable tariff with the 8GB iPhone 3G (which is now 2 years old) would set you back at least £749 over 24 months, or £709 using the loophole we discovered. Opt for the more modern 16GB iPhone 3G S and you're looking at £809. You're looking at a saving of about £300 with the HTC Desire.
What if I don't want to sign up for 24 months?
T-Mobile also offer the HTC Desire on an equivalent 18 month tariff. You'll have to pay £226 upfront for the phone (an extra £69 above the price on the 24 month tariff). The total price comes down to £496 for 18 months compared to £517 for the 24 month contract. Given that you can get an extra 6 months of airtime for just £21, we recommend going for the 24 month option.
Typically we advise readers to avoid locking themselves into a long contract – however we can't forsee a tariff which would be significantly cheaper than this being available on the market any time soon.
What should I look out for?
Once you exceed your allowance of minutes, you'll pay 30p/minute. It may be better value to go for a more expensive contract if this means you would not exceed your allowance.
How do I get a HTC Desire from T-Mobile?
You can order this from the T-Mobile website.
Can I keep my number from my existing network?
Yes; you will have to request a PAC code from your existing network and provide this code to T-Mobile customer services once you have received your phone.
What are the alternative ways of obtaining a HTC Desire?
Amazon are offering the HTC Desire SIM-free for £459.
The HTC Desire is also available on the other major networks. We've got all the available tariffs listed on our price comparison webpage.
Drop us a comment if you spot an even cheaper deal on the market.
* Full disclosure: This post originally referred to a £10/month contract. On the 12th April, T-Mobile raised the price of the tariff to £15/month and decreased the cost of the HTC Desire from £164 to £157. Although the price has now increased, we still find this tariff is by far the cheapest in the market.
About Ken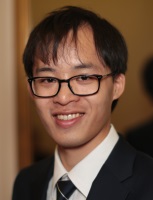 My passion is helping people to get the most out of their mobile phone. I've been blogging at Ken's Tech Tips since 2005.
Aside from writing about mobile technology, my interests are in software development, digital marketing and physics. Outside of the blog, I work with numerous technology companies helping them to explain their product and helping them to market it to consumers. Please get in touch for more information.