Free SMS reminders for to-do items, appointments, meetings and bills from Google
January 20th, 2011
Google's free Calendar service can send you free customisable reminders via text message. It integrates with Facebook, Outlook and works with any mobile phone.
What is Google Calendar?
Google Calendar is a free web-based calendar application. It's similar to the calendar functionality in Microsoft Outlook and is a great tool for managing your time, your meeting requests and deadlines. Google Calendar is typically accessed from a laptop using a web browser or using an Android smartphone (Google Calendar is integrated by default). However, you can access Google Calendar from any mobile device and can leverage the free SMS text message reminder functionality regardless of what phone you have… whether it's 10 years old or brand new. You'll also need to be a customer of Three, O2, Orange, T-Mobile or Vodafone.
Note that if you live outside the UK, you may be charged to receive text messages. Text messages from Google Calendar SMS are charged at the standard rate (free for UK mobiles).
How do I set up text message reminders in Google Calendar?
You'll need to use the Google Calendar web interface to set up text message reminders.
Firstly, you'll need to add your mobile phone number to Google Calendar. Log in to Google Calendar (your normal Google Mail login will do) and click on the "Settings > Calendar Settings" link in the top-right corner of the page. Choose the "Mobile Setup" tab. From this tab, you'll need to enter your mobile phone number. Google will send you a text message to verify that you the phone number you entered belongs to you. Enter the "verification code" on the Google Calendar website to verify your phone number.
Once you've set up your phone number, you'll need to turn SMS text notifications on. In the "My calendars" box, click on the small arrow next to your calendar and select "Calendar settings". In the "Notifications" tab you can now be able to add a SMS text message reminder for all of your events. You can also select when to receive the reminder (e.g. a few minutes before or even a few days before).

Other reminder types are also available: e-mail reminders and pop-up reminders (pop-up reminders will show in Gmail and will pop-up in Android).
Can I set up different types of reminders for different types of events?
Yes. You can create a new calendar within Google Calendar with different default reminder settings. For example, you could create a "bills" calendar where a reminder sent 3 days before using e-mail and a "meetings" calendar where a reminder is sent via text message an hour before. Click on the "Add" link under "My calendars" to create a new calendar. Make sure you categorise your events correctly to receive the correct reminders.
If you've got a bill to pay every month (e.g. a credit card bill), you can set up a recurring event within your calendar. This means you'll automatically get a free text message reminder every month.
Can I set up custom reminders for a given event?
Yes. When creating or editing events in the Google Calendar web interface, you can choose to override the default reminder settings. You can set up to 5 custom reminders. For example, you could set up staggered reminders (e.g. an e-mail several days before and a text message an hour before).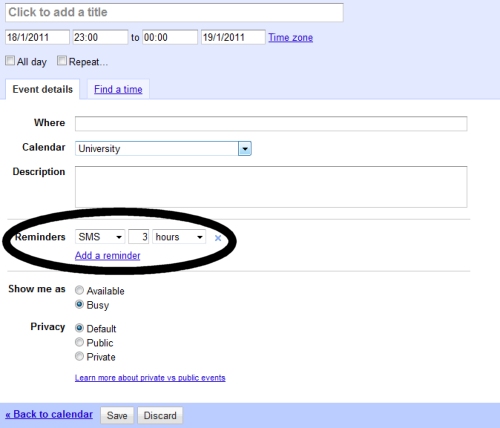 Can I receive SMS notifications for appointments in Microsoft Outlook?
Yes. Use the Google Calendar Sync application to synchronise appointments created in Microsoft Outlook to Google Calendar. Providing that Google Calendar is set up to send SMS notifications by default, you should now receive free text message reminders of all of your Microsoft Outlook events.
Can I receive SMS notifications for Facebook events?
Yes. Log in to Facebook and go to the "Events" tab. Click on "Export Events" at the bottom of the page. Facebook will provide you with a URL which you can use to import those events into Google Calendar. The URL will look something like webcal://www.facebook.com/ical/u.php?uid=[your facebook id]&key=[secret key]. In Google Calendar, click on "Add" underneath the "Other calendars" box on the left-hand side of the page. Select "Add by URL" and paste the URL generated by Facebook. You'll need to change the default settings for this new imported calendar to enable SMS text message reminders.
Note that this will generate notifications for all Facebook events that you've been invited to regardless of whether you have specified that you are attending.
Will I be charged to receive SMS text reminders whilst abroad?
No. Texts from Google Calendar will be charged at the standard rate. Given that UK networks do not charge for receiving texts (even whilst abroad), there will be no fee to receive your reminders anywhere in the world.
Where can I find out more?
Google have produced a list of FAQs on their website regarding the Google Calendar SMS functionality. See the Google website for general queries about Google Calendar.
About Ken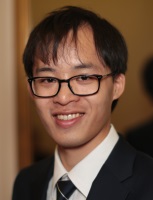 My passion is helping people to get the most out of their mobile phone. I've been blogging at Ken's Tech Tips since 2005.
Aside from writing about mobile technology, my interests are in software development, digital marketing and physics. Outside of the blog, I work with numerous technology companies helping them to explain their product and helping them to market it to consumers. Please get in touch for more information.