Free Google Sat-Nav application now available on Android phones in the UK
April 21st, 2010
If you've got a recent Android smartphone, a free GPS navigation service with turn-by-turn directions will have appeared on your phone this morning.
In a quiet update to Android phones this morning, Google has enabled a GPS satellite navigation system with turn-by-turn directions for UK customers. The new feature is part of the Maps application (no update is required) and is only available to phones running Android version 1.6 or later. This includes the much hyped and just released HTC Desire (we're helping you to find the best value HTC Desire tariffs at our price comparison page).
How much does it cost?

photo: Viernest
Google is making GPS navigation a free feature of all Android smartphones. It believes that this will be a killer feature which will put Android phones ahead of the iPhone for consumers (maps applications on the iPhone can cost in the region of £50 and often charge for maps).
Google's GPS navigation service downloads maps on the fly over the mobile network (as opposed to storing them on the device like most GPS devices). This means you will always have up-to-date maps but the downside is that you'll have to make sure you've got a decent unlimited data package to avoid running up a huge phone bill for data charges. You should also refrain from using this overseas (data charges will be huge). You would be much better off ensuring that your phone is unlocked and using a local SIM card.
Your phone will need to have GPS and run Android 1.6 or later. Key phones which will support this include:
Acer Liquid A1 (Android 1.6)
HTC Desire (Android 2.1)
HTC Legend (Android 2.1)
HTC Magic (Android 1.6 with update)
Google Nexus One (Android 2.1)
Samsung Galaxy Portal (Android 2.1)
Sony Xperia X10 (Android 1.6)
Unfortunately if you've got a phone running Android 1.5 or lower, you'll have to wait for an update. We think the HTC Hero is going to get an update soon but nothing is set in stone.
If you're buying a new phone double check that it runs Android 1.6 or 2.1 and that it has a GPS receiver built in.

photo: Nicholas_T
Drop us a comment below and let us know whether it works for you and your phone.
How do I use it?
Open up the Google Maps application (if you don't have this, you'll need to grab it from Android Market)
Press "Menu" and then "Directions".
The application will ask you for your destination. You can enter a postcode, a place name, etc.
Select the car as your mode of transport. This doesn't work in public transport or walking mode. Press Go.
The Maps application will show you the directions to your destination (as it always has). However there will be a new button labelled "Navigate". The button has an arrow icon.
When you press Navigate, the phone will enter GPS navigation mode. The screen displays turn-by-turn directions with voice guidance. It will also show you your current location and the estimated time to destination (using traffic information).
Once you've finished go to the "Exit Navigation" menu item. Leaving this on when you've finished using it will drain your battery incredibly quickly.
Using the "Layers" menu item, you can choose to show traffic information or satellite imagery on the map. You can also highlight petrol stations, ATMs and restaurants on the map.
Where can I see pretty pictures (screenshots)?
Here's a screenshot from Google: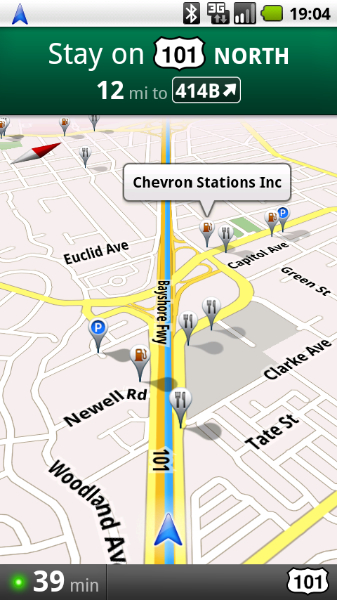 Google has a screenshot gallery on it's website.
If you don't have an Android phone, the cheapest way of getting GPS navigation would be to buy a dedicated device for it. Amazon have a huge choice of GPS navigation devices for around £100. GPS devices will usually come with a set of maps and often with extras such as speed camera information, lane guidance. They also tend to have larger screens than mobile phones.
If you were considering a smartphone before, the availability of free GPS navigation on Android is a great bonus.
About Ken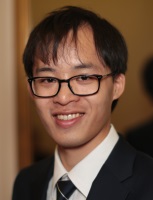 My passion is helping people to get the most out of their mobile phone. I've been blogging at Ken's Tech Tips since 2005.
Aside from writing about mobile technology, my interests are in software development, digital marketing and physics. Outside of the blog, I work with numerous technology companies helping them to explain their product and helping them to market it to consumers. Please get in touch for more information.