Facebook Mobile Texts: The Comprehensive Guide
February 5th, 2009
So you've signed up for Facebook Mobile and SMS alerts. Now you're probably wondering how you interact back with Facebook. Instead of just receiving notifications of new wall posts and pokes, can I make wall posts and pokes from my phone?

photo: Christmas w/a K
Well, there are several options. Firstly, point your web browser to m.facebook.com. It's the version of Facebook which is specially designed to work on your phone. You might want to read my article about web browsing on your phone – what the data charges are like and why you should consider using Opera Mini.
The second option is to use Facebook Mobile Texts. It's much quicker and simpler to do – although it will cost the same as sending a standard text message. If you've got a free text allowance, it's a no brainer (make sure your Facebook texts are included in the plan). If you're shelling out 10p for each 160 character SMS message, you might want to keep an eye on your bill.
You use Facebook Mobile Texts by sending a message to FBOOK (32665). Check out the summary at the bottom or have a look at what you can do…
Update your status (@ is updating his status)

This is probably the main thing you want to do. Send @ followed by your status.
@ is updating his status would change your status to "Ken is updating his status".
N.B. You can omit the @ sign and normally this will still work. The exception is when you use reserved keywords.
Get profile information or phone number (cell john doe / srch john doe)
This gets you somebody's essential profile information e.g. mobile phone number, landline number, email address, current status, relationship status, network and education. A bit like a business card really.
If you are friends with the person, send cell john doe. Otherwise, send srch john doe – Facebook will present you with a search listing of people with that name. Text a choice back to see their public profile.

photo: Andy Welsh
Send a message (msg john doe hello!)
Send a private message. Type msg, followed by their name and then your message.
Make a wall post (wall john doe hello!)
If a private message will not do and you insist that the whole world reads this message, type wall, followed by their name and then your message.
Poke (poke john doe)
Pokes someone. Text poke followed by their name.

Add a friend (add john doe)
Adds someone. Text add followed by their name.
Write a note (note this is a note)
Adds a note. Text note followed by your note.
Summary:
Text the following to FBOOK (32665).

photo: Iain Farrell
@ [your new status]
cell [name of person to retrieve profile info for]
srch [name of person to search for]
msg [their name] [your message]
wall [their name] [your message]
poke [their name]
add [their name]
note [your note]
You can try these out on the Facebook website to see what they'll do.
About Ken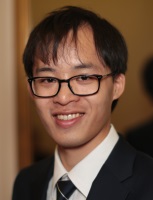 My passion is helping people to get the most out of their mobile phone. I've been blogging at Ken's Tech Tips since 2005.
Aside from writing about mobile technology, my interests are in software development, digital marketing and physics. Outside of the blog, I work with numerous technology companies helping them to explain their product and helping them to market it to consumers. Please get in touch for more information.