Buyers Guide to iPad & iPad Data Tariffs: micro-SIMs, tariff comparison
May 26th, 2010
The Apple iPad is hitting the stores in the UK this Friday. In this guide, we outline what you should be looking for in an iPad data tariff, what it'll cost you and how to get the best deal on your iPad data tariff.
Which iPad should I buy?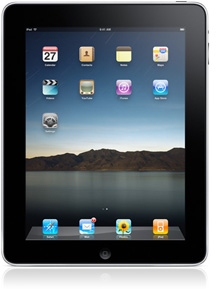 There are three different iPads – each with different amounts of storage/memory. The 16GB model costs £429, the 32GB model costs £499 and the 64GB model costs £599. Apart from the difference in the amount of memory, all of these iPads are functionally identical. All iPads have Wi-fi connectivity. There is additionally £100 upgrade available for 3G (internet via the mobile network) connectivity.
If you want to the internet on the go using a micro-SIM tariff (discussed below), you will need to pay the £100 extra for 3G connectivity and then to purchase a data tariff. iPad data tariffs typically cost around £10-£15 per month.
We strongly recommend that you think about how you will actually use your iPad in reality before stumping out for the £100 upgrade and signing up for a data tariff. Can you really see yourself carrying around the iPad with you everywhere? Will you use the iPad on the daily commute to work? Do you really need 3G data on your iPad when you've got it on your smartphone? If the answer to those questions were "No", you might be wasting your money shelling out for 3G connectivity and a data tariff.
Secondly, you should be aware that you can still connect to the internet via the mobile network without the £100 upgrade. To do this, you'll need to use 3's Mifi accessory (reviewed here). It'll work with all of your wi-fi enabled devices (laptop, iPod Touch, etc) and is even available on Pay As You Go (ideal because unused allowances carry over to the following month). If you'd only use your iPad on the move very rarely, this may be a much better value proposition.
The rest of this article is only applicable to users with iPads with 3G connectivity.
What should I look for in an iPad tariff?

photo: nromagna
First and foremost, you want the 3G internet connectivity on your iPad to actually work. There are 3 things you can do to find out what coverage is like and the speed of connectivity where you live:
The first thing we recommend doing is to check 3G coverage using the online coverage checking tools of each of the networks. Make sure that 3G coverage is available where you live. If only 2G or GPRS coverage are available in your area, we would stay clear of that network as the coverage would not be fast enough to provide a decent user experience with an iPad.
You can also use OFCOM's Sitefinder website to find nearby phone masts (this will give you a good idea of where your local phone masts are and whether they are 3G enabled).
Ask a friend on that network what their phone 3G reception is like. Alternatively, grab yourself a free Pay As You Go SIM card on that network, stick it in your unlocked 3G phone and see how many bars of signal you get and make sure you can pick up 3G too. We find this tends to better reflect user experience than the online coverage checkers do as it reflects actual usage as opposed to theoretical predictions.
What is a micro-SIM?
A micro-SIM is essentially the same thing as a SIM card but it's slightly smaller.
According to Wikipedia:
Even smaller device sizes have prompted the development of a yet smaller card size, the 3FF card or micro-SIM. Micro-SIM cards have the same thickness and contact arrangement [as SIM cards] again, but the length and width are further reduced to 15 mm × 12 mm.
As the only real difference between a standard SIM card and a micro-SIM card is its size,. This means that it is possible to convert a standard SIM card to a micro-SIM using a sharp knife. You can use any 3G data plan in your iPad with this technique – providing you can cut the SIM card down to size and providing your mobile operator will allow it. That said, we think you'd be hard pressed to find a standard 3G data plan which is better value than those designed specifically for iPad.
How much data do I need?

photo: loop_oh
It depends on how you use your iPad and where you use it. For example, if you regularly stream high definition videos from YouTube then you'll use a lot more data than someone who mainly reads text-based articles. Also when you're at home, you'll be using your wi-fi connection. That won't count towards your 3G data usage.
According to O2, 1GB is equivalent to 10,000 webpages, 200 songs, 2 hours of video or a combination of the three.
What iPad tariffs are available?
Apart from a Pay As You Go iPad tariff from Three (includes 3GB data with SIM), there are 12 micro-SIM tariffs are available all designed for the iPad. You can pay per day, per week or per month.
2 "pay per day" tariffs are available. The O2 deal provides marginally better value than the Orange deal with additional access to BT Openzone hotspots.
| Network | Price per Day | Daily Data Allowance | Excess charges |
| --- | --- | --- | --- |
| O2 | £2 | 200MB & BT Openzone | Access Terminates |
| Orange | £2 | 200MB | 5p/MB |
1 "pay per week" tariff is available. The only tariff available is from Orange and offers 1GB for £7.50 per week. We don't think this is a good deal: for £7.50 you could have 1GB of data that lasts for a month on Three.
| Network | Price per Week | Weekly Data Allowance | Excess charges |
| --- | --- | --- | --- |
| Orange | £7.50 | 1GB | 5p/MB |
9 "pay per month" tariffs are available. The clear winner here seems to be Three's £15/month 10GB tariff if you're a heavy data user.
| Network | Price per Month | Monthly Data Allowance | Excess charges |
| --- | --- | --- | --- |
| Three | £7.50 | 1GB | 10p/MB |
| Three | £15 | 10GB | 10p/MB |
| O2 | £10 | 1GB & BT Openzone | Access Terminates |
| O2 | £15 | 2GB & BT Openzone | Access Terminates |
| Orange | £15 | 3GB & BT Openzone | 5p/MB |
| Orange | £25 | 10GB & BT Openzone | 5p/MB |
| Vodafone | £10 | 1GB | ? |
| Vodafone | £15 | 3GB | ? |
| Vodafone | £25 | 5GB | ? |
Is the iPad locked?
No. iPads purchased from Apple shouldn't be locked to any network. Data tariffs are sold separately from the iPad. You can use any micro-SIM data tariff.
Article updated 20th September 2010: O2's iPad tariffs have changed.
About Ken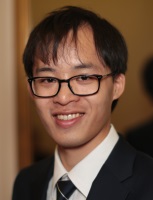 My passion is helping people to get the most out of their mobile phone. I've been blogging at Ken's Tech Tips since 2005.
Aside from writing about mobile technology, my interests are in software development, digital marketing and physics. Outside of the blog, I work with numerous technology companies helping them to explain their product and helping them to market it to consumers. Please get in touch for more information.