Blyk – Free Mobile Network for Young People
January 27th, 2009
Mobile phone network Blyk offers completely free text and minutes to young people between the ages of 16-24.

photo: Christmas w/a K
217 free texts and 43 free minutes
The difference between Blyk and other networks is that whilst other networks charge subscribers to send texts or make calls, Blyk is an advertising funded mobile service. At present, Blyk offers 217 free texts and 43 free minutes every month however this is changing from mid-February to £15 of credit to be used however you would like. To put this into context, £15 gets you 150 texts (10p per text), 100 minutes (15p per minute) or 15MB of internet (£1 per MB), or some combination of the three.
Advertising
I spoke to a friend on Blyk at the weekend. He has managed to use Blyk for quite a few months and not paid a single penny. I'm also told the advertisments are pretty unobtrusive. Blyk has partnered with brands such as Coca-Cola, NatWest and Mastercard for the advertising.
Blyk also adds an advertisment to the end of each of your text messages along the lines of "join blyk the mobile network for 16 – 24 year olds". Not so much of a problem if you use it mainly for calls and data but thats a rarity amongst young people.
Becoming a Blyk Member

photo: furryscaly
First of all, Blyk membership is restricted to 16-24 year olds. Presumbly this is because young people in this age range are most susceptible to responding to adverts. Of course, if you're a parent, you'll want to think about whether you want your kids to be targeted by Coca-Cola and MasterCard and encouraging them to consume sugary drinks and to take out credit cards.
You need an invite to join Blyk. If you've got a friend with Blyk, you could ask them for one. Otherwise, you might find other ways of obtaining invites. Try the instructions in Blyk's YouTube videos (e.g. texting HELLO to 82595). Alternatively, Wikipedia suggests texting HELLO to 82595.
You'll have your identity checked against national databases during the signup process. Once you turn 25, you'll be able to keep Blyk although you won't be able to join again if you decide to leave.
Reception
Blyk is a MVNO on the Orange Network. As such, reception and signal should be identical to that on the Orange phone network.
Conclusions

photo: eifelyeti110
Blyk is a mobile service offering free texts and minutes to young people. This sounds great but the catch is that you'll need to put up with adverts – up to 6 texts a day. Additionally, you'll also have adverts added to the end of all the free text messages you send. Once you've run out of your free allowance, the costs of texts and minutes is fairly reasonable and competitive.
Blyk is worth considering if you want free texts and minutes without forking out a single penny and don't mind seeing adverts. However, you will probably find it worthwhile to shop around amongst the mainstream networks and sign up for free text allowances there. You'll have to pay for your texts and calls but it could be a much less frustrating experience than sitting through adverts every day and annoying your friends with adverts in your texts.
Do you use Blyk?
Do you have experiences of Blyk to share with us? Please leave us a comment below.
About Ken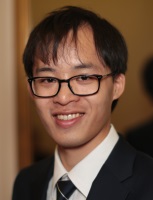 My passion is helping people to get the most out of their mobile phone. I've been blogging at Ken's Tech Tips since 2005.
Aside from writing about mobile technology, my interests are in software development, digital marketing and physics. Outside of the blog, I work with numerous technology companies helping them to explain their product and helping them to market it to consumers. Please get in touch for more information.