3D Television on Channel 4, Sky and YouTube – How it works
August 25th, 2009

photo: Claire L. Evans
In the past months, there seems to be a 3D renaissance within media. We've had big name films such as G-Force and Ice Age being released in the 3D format in the cinemas – and the 3D format is set to come right into our living rooms this year with a new service from Sky and a set of special programmes from Channel 4.
How does it work?
You normally perceive everyday objects in 3 dimensions because each of your eyes sees slightly different images. By comparing the images from each eye, your brain can work out the depth of the image and form a picture in 3D – this is depth perception.
To create the same effect from TV or cinema, each of your eyes must "see" a different image. There are two techniques to achieving this:
The iconic red and blue glasses. You put on a pair of glasses with red lens for the left eye and blue lens for the right eye. The red lens only allows red light through; the blue lens only allows blue light through. The television broadcasts two images overlaid on top of each another – one red image and one blue image. Your left & right eyes will see different images and can then combine these to give a 3D image.
Polarised light. Whilst the red/blue glasses work, it's now exactly comfortable viewing. Some of the perception of colour is lost. Luckily there is another way: by using polarised light. Light can be horizontally polarised or vertically polarised. A special TV set can broadcast two images on top of each another – one of which is horizontally polarised and the other is vertically polarised. Using glasses with polarisation filters, each of your eyes can only see one of the polarisations. Hence each eye sees a different image allowing your brain to form a 3D image.

photo: Furryscaly
Whilst the polarisation method offers a much better image and is much more watchable, the disadvantage is that you need to have specialised equipment.
3D on Channel 4
Channel 4 are broadcasting selected shows this Autumn in 3D:
Channel 4 is kicking off a whole season of 3D footage. The schedule will include Derren Brown's 3D Magic Spectacular and a compilation of The Greatest Ever 3D Moments – presumably there aren't enough to fill a top 100 quite yet. For the older crowd, there's going to be a special, two-part series of The Queen in 3D.
3D on Sky
Sky are launching a 3D television service using polarised light. Special 3D TVs are required – currently costing about £2,000. The guys over at Sky have produced a video explaining how it all works.
No news yet on what we'll be able to see on the new service though.
YouTube 3D
If you've got yourself a pair of 3D glasses, check out YouTube 3D.
About Ken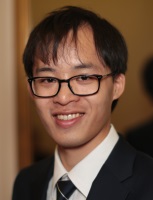 My passion is helping people to get the most out of their mobile phone. I've been blogging at Ken's Tech Tips since 2005.
Aside from writing about mobile technology, my interests are in software development, digital marketing and physics. Outside of the blog, I work with numerous technology companies helping them to explain their product and helping them to market it to consumers. Please get in touch for more information.